What happens?
When you finish the Upgrade order, the message It is not possible to upgrade to this product, as there is no common subscription between them. For more information, contact support.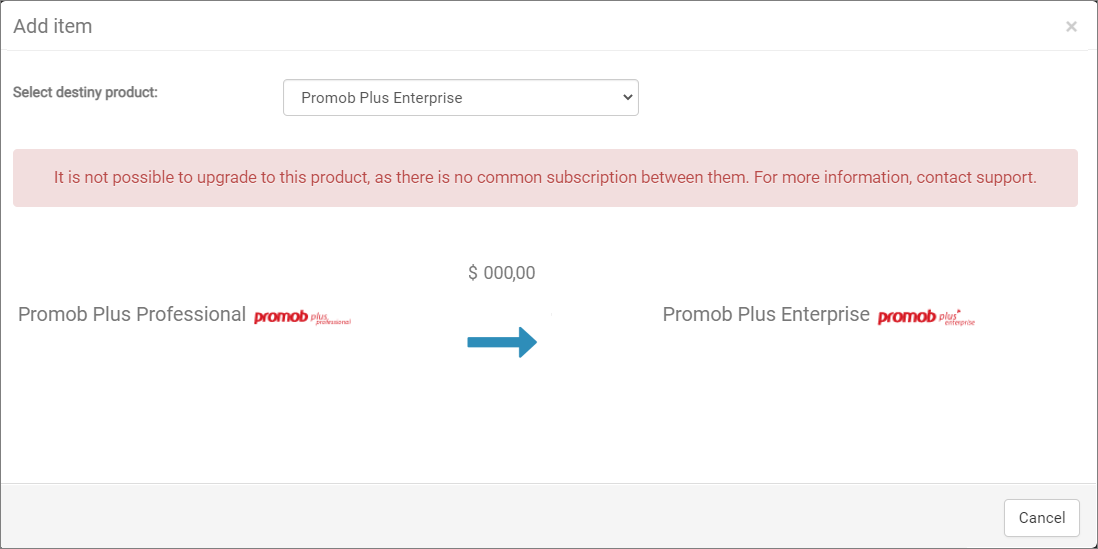 Why does it happen?
The product to be upgraded does not have the subscription renewal period in common with the upgrade subscription. That is, the current subscription is in the annual renewal mode and the upgrade subscription has the monthly renewal mode.
Currently, by default, the Portal only recognizes new subscriptions as a monthly renewal modality, therefore, when requesting an upgrade with an annual subscription, it identifies a modality incompatibility and cannot perform the upgrade.
What to do?
Solution 1
1. Change your subscription modality for monthly renewal. For that, click here.
2. Try the upgrade again;
IMPORTANT:
To change the renewal method, the subscription must be expired or, the procedure must be done on a date close to the subscription expiration date;
The change in the renewal modality is only recognized after the payment for the renewal has been cleared, therefore, the upgrade is only available after the change is recognized by the Portal.
Solution 2
If you are interested in maintaining the annual renewal method, contact Promob's sales team.