To access the features of the File menu, follow the instructions shown below: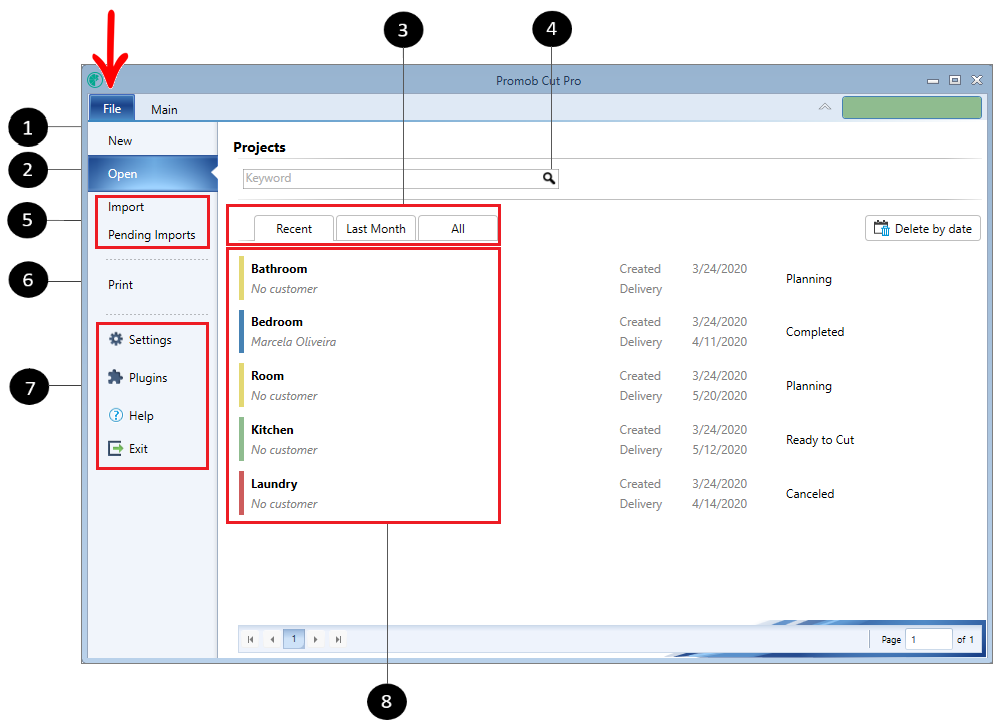 1. New
Clicking on this button starts a project from scratch.
2. Open
Clicking on this button the selected project will open;
To open projects, you can also click directly on the name of the desired project.
3. Tabs
Recent: the Recents tab shows the last five open projects, regardless of their creation date;
Last month: shows all projects created in the last month;
All: the third tab contains all the projects sent to Promob Cut Pro. Their loading time will be related to the number of existing projects.
4. Search field
Through this field it is possible to filter the projects.
Example: when you type the word Kitchen in the search field, the projects that contain this term will be filtered.
IMPORTANT: The filter search applies only to the tab that is selected.
5. Imports
Import: By clicking on this option, it is possible to import projects in the * .planner, * .cut, * .csv extensions. It is possible to establish a configuration for import. For more information click here.
Pending Imports: Based on the Import Settings, this tab informs you whether or not there are projects made on Promob that have not yet been imported into Cut Pro. For more information click here
6. Print
This tab will load the Cut Pro print screen, where it is possible to configure label templates, generate listings, and cut plan. For more information click here.
7. Options, Plugins, Help, and Exit
Settings: In this tab, it is possible to establish settings, such as language, unit of measure and consumption area, customer number, number of characters for the item code, offset, face Prioritization Order , default refill register for remaindersand and offset settings on special items, import configuration and raw material code, standard edge band height, backup, import settings, and import logo.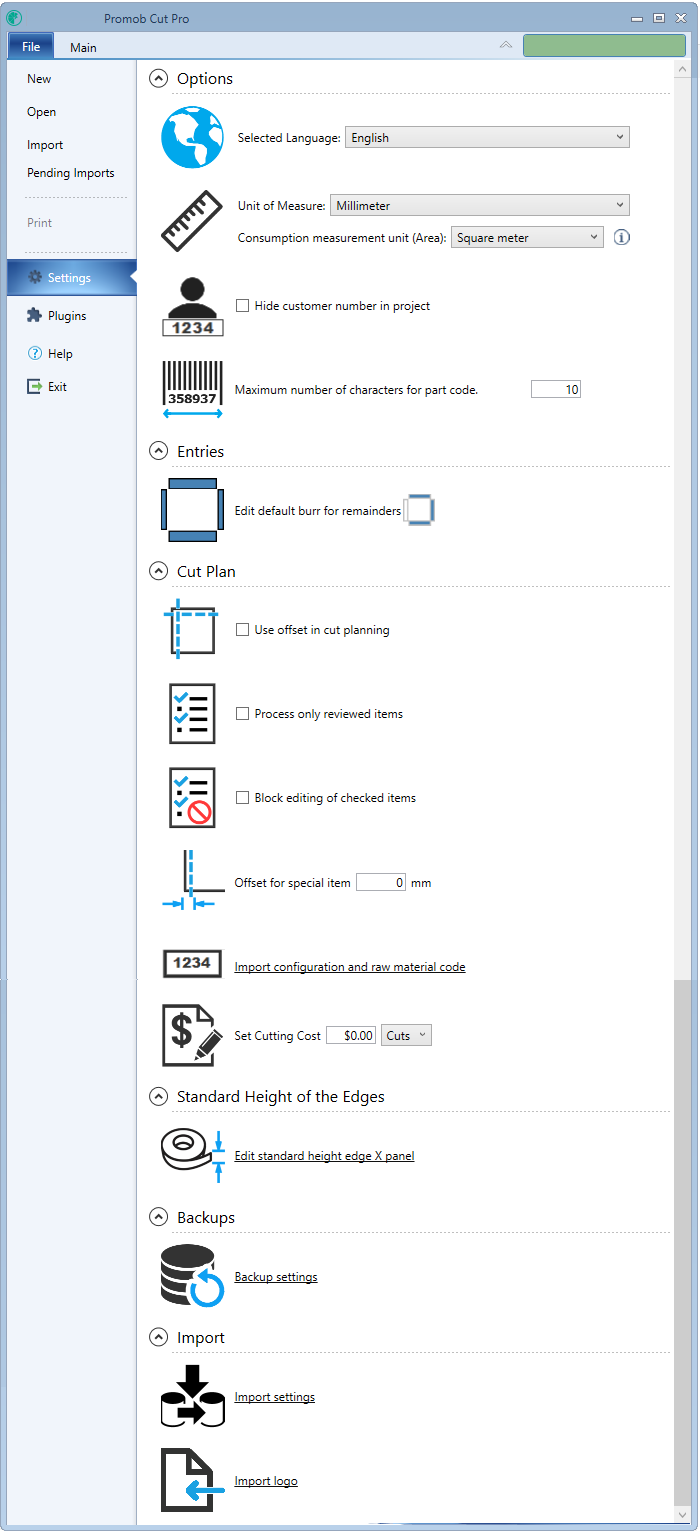 Plugins: This tab will load the screen by referring to the plugins, being possible to activate, deactivate, and update them.
Help: clicking this button, more options will appear, such as user guide, support page, solicitations, contact us, save projects, and check update.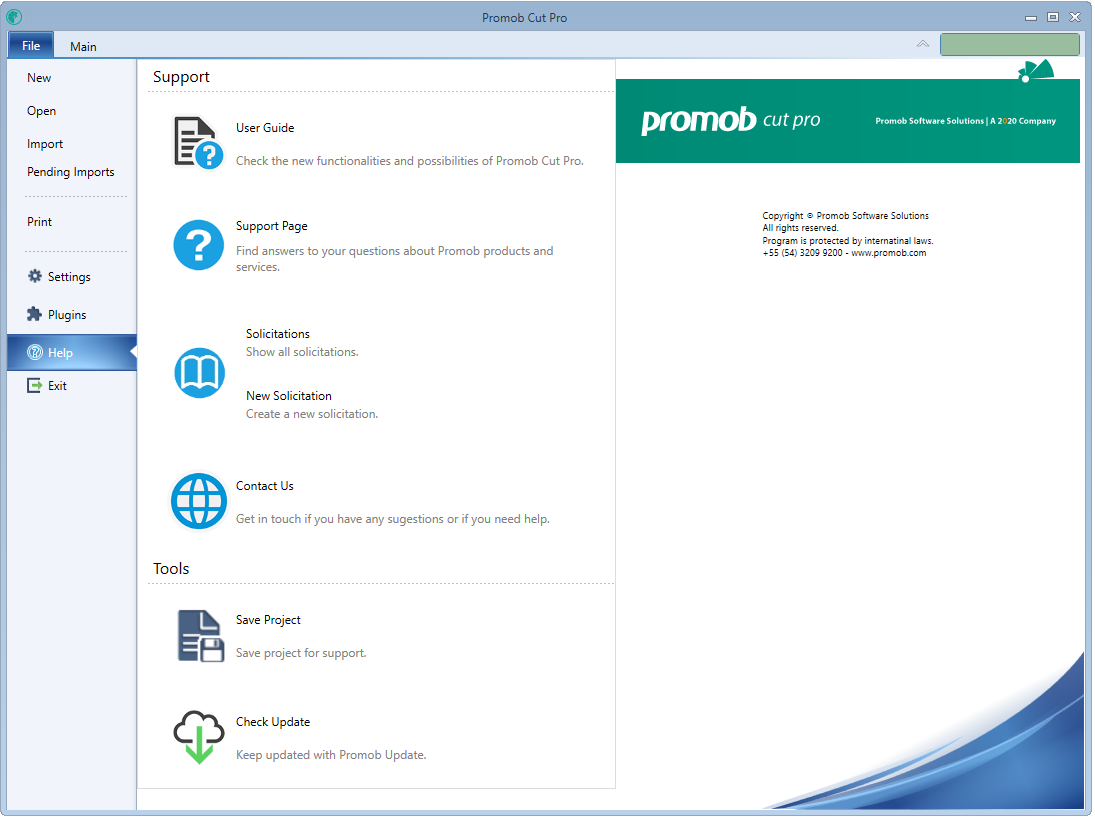 Exit: clicking this button will log out of Cut Pro;
8. Projects
These are the projects themselves. For more information on how to manage them, click here.