What happens?
When Promob is opened, the unconformity is displayed Action: Loading CODON types collection.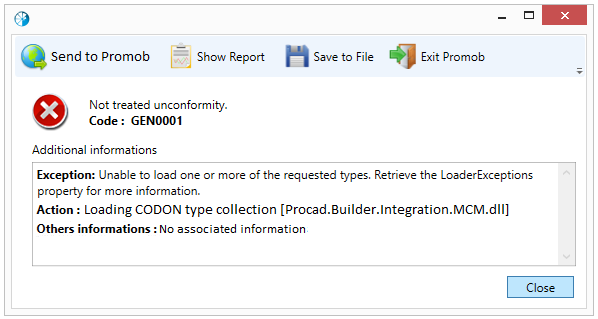 Why does it happen?
The situation occurs because a file necessary for the Promob to work is corrupted or not found when opening.
What to do?
Solution 1: Update Promob
Close the unconformity or end the Promob process through the Task Manager (press Ctrl + Alt + Del keys simultaneously. Click Processes tab. Locate and select process Promob5.exe. Click End Process). IMPORTANT: to perform the other procedures, Promob must be closed;
Go to Local Disk (C:)\Program Files\Promob\Promob (Manufacturer Name)\Program;
Locate and rename the Addins folder to _Addins;
Note: It is necessary to check the option Full Verification when updating. If the option is not displayed on the first update, please update again afterwards.
Solution 2: Reinstall Promob