Through this tool it is possible to present the total budget amount in different ways, according to conditions created by your company. This tool allows you to divide the value of a design into installments, applying additions or discounts. It allows the setting of a maximum amount or percentage of discount that the seller can use to close the deal, in addition to allowing the seller to choose which conditions he will open for the customer.
The registration of payment terms directly implies the final amount of the budget, for this reason access to payment terms can be protected by a password.
IMPORTANT:
The Payment Terms tool is not available for Promob ARCH. For other systems, the availability of the tool may vary according to each manufacturer;
The values shown in the images of this procedure are merely illustrative.
To access the Payment Terms window:
1. Click the Budget button and select one of the budget options;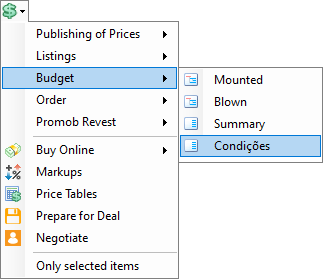 2. In the Budget window click on Payment Terms;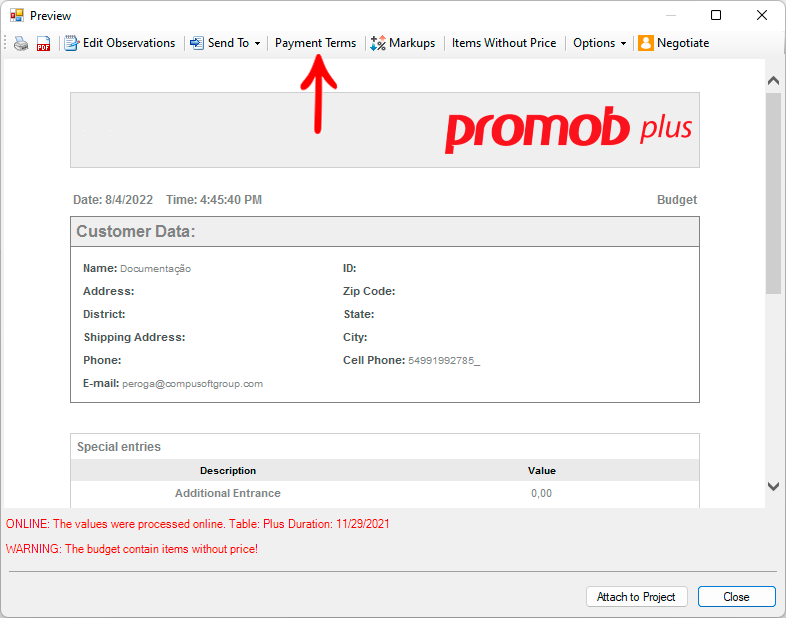 3. The Payment Terms window displays the following information and functions:
Project Price: displays the total value of the project.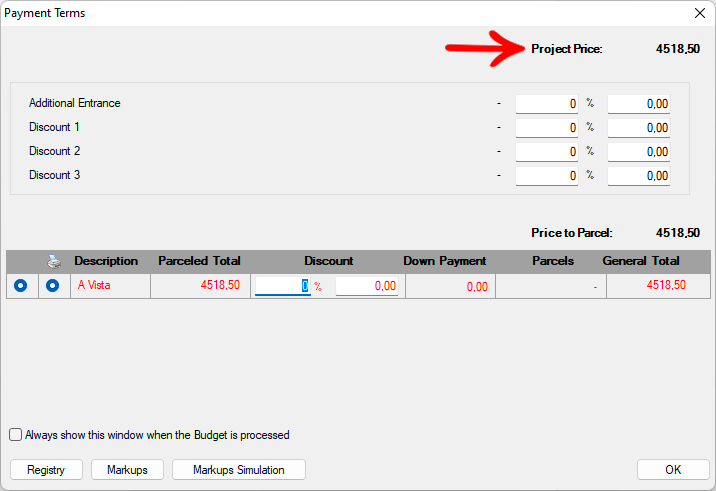 Values paid by the customer or discounts given by the store before applying the payment terms.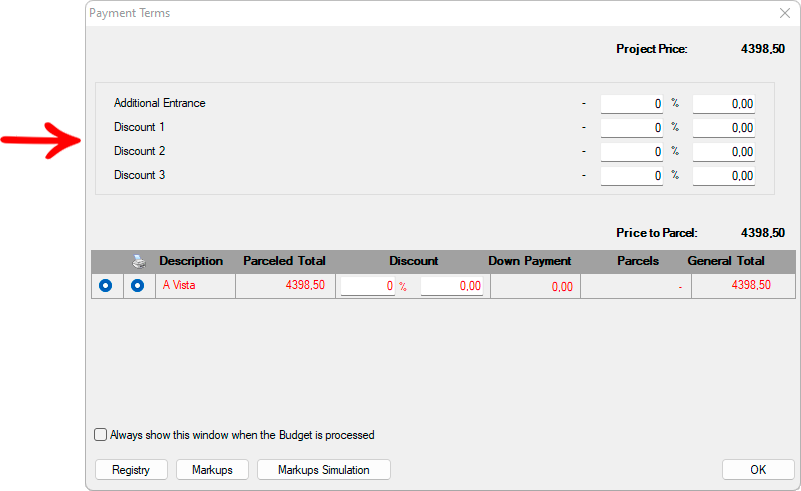 List of registered payment terms.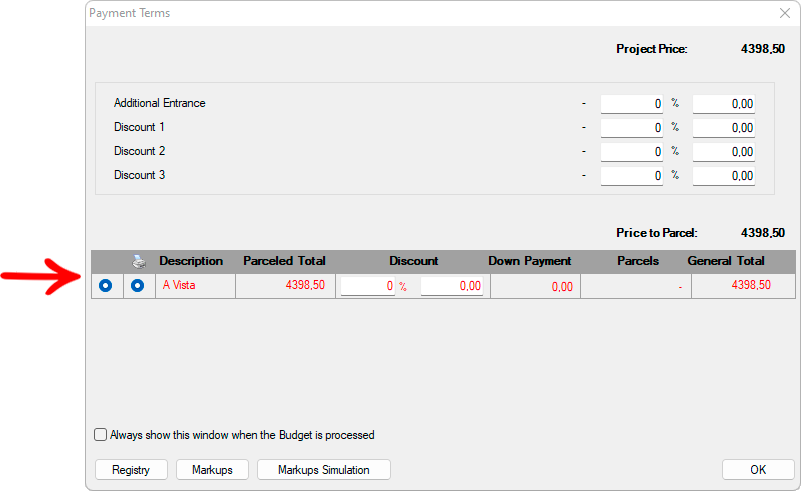 With this option enabled, Promob will show the Payment Terms window whenever a quote is generated.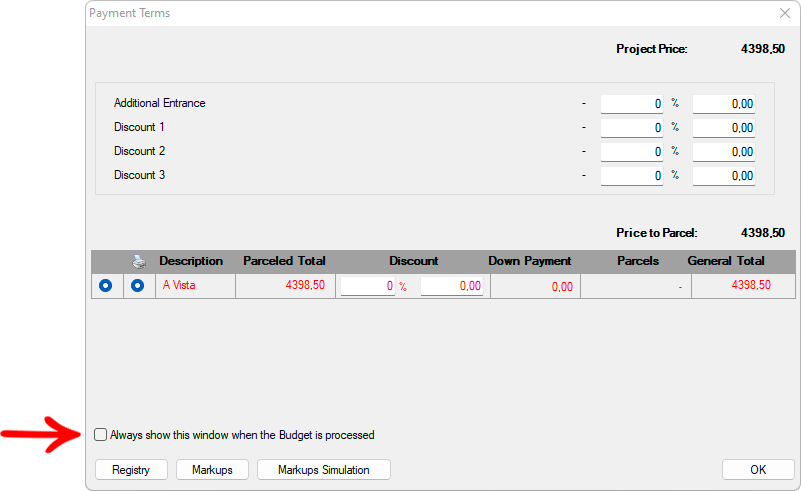 Access to the payment terms Registration window.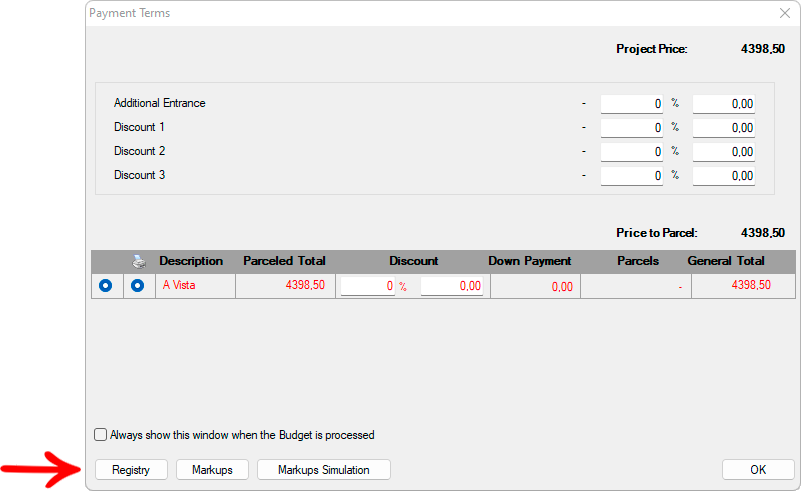 4. The options for the payment terms registration window are:
Allow Payment Terms Multiple Select: by checking this option, it is possible to select several payment terms to be displayed in the design budget.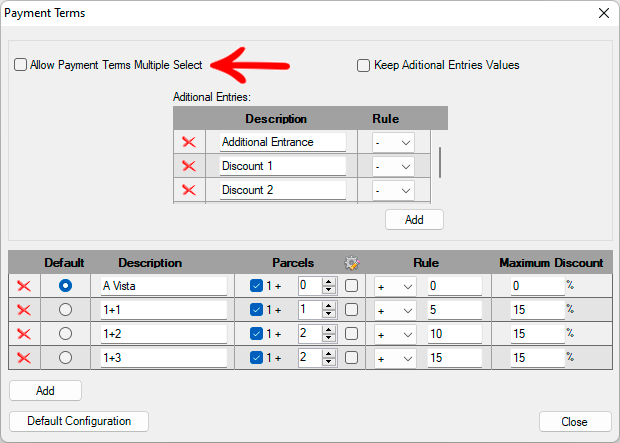 Keep Aditional Entries Values: by checking this option, the values registered for the Additional Entries are saved in the design, it is not necessary to register them each time the budget is generated.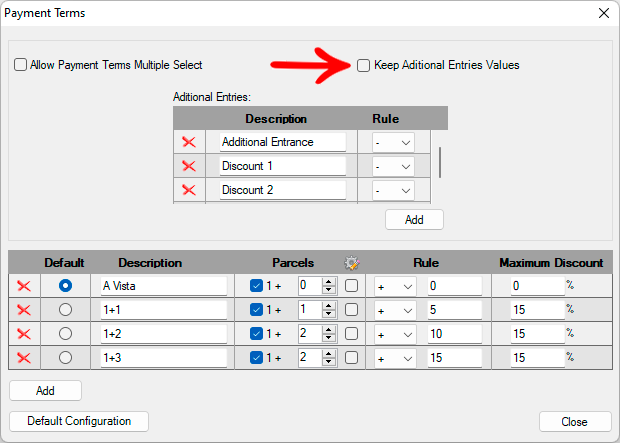 Keep Additional Entries Values: allows you to register additional entries and discounts.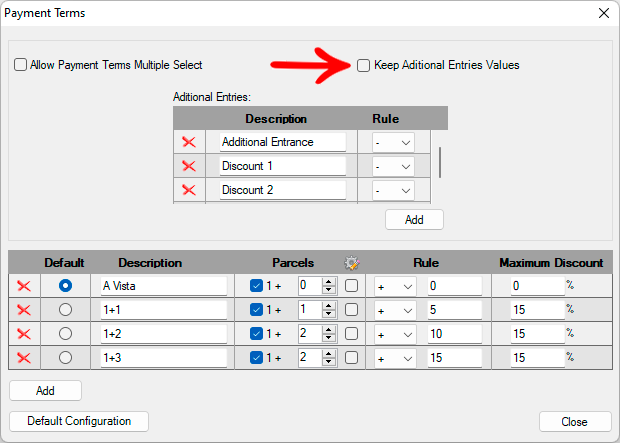 List of payment terms already registered.
By clicking on the button, the payment condition is removed.
Selection of default payment terms.

Adds a new line to register a new condition. To register a new condition, inform: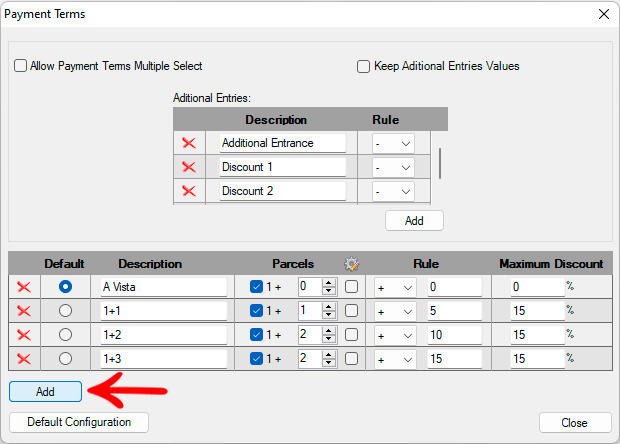 - Description: name of the payment condition;
- Parcels: number of parcels in which the total amount will be divided;
- Rule: rule that will be applied to the value of each parcels, where:
+: adds to the total value of the design the percentage value informed in the box on the right side;
-: discount the percentage value informed in the box on the right side of the total value of the design;
*: multiplies the total percentage value entered in the box on the right side;
/: divide the total amount by the percentage value informed in the box on the right side;
- Tx: apply fee amount to the total budget amount
- Maximum Discount: maximum discount amount that can be applied to the condition;
Default Configuration: removes the registered payment terms and recovers the default condition.