Whats happen?
When updating Promob, the follow message is displayed: Ocorreu um erro. Erro inesperado.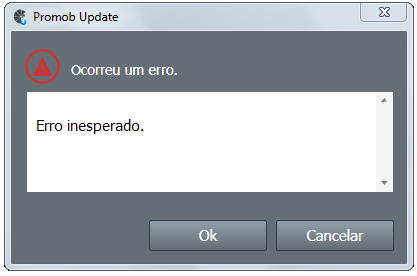 Why does it happen?
The situation may occur because it was not possible to establish a connection from the user's computer to the update server due to the following reasons:
1. Instability or failure in connection to the Internet;
2. The user's connection has an Internet access limiter (proxy, firewall, antivirus, among others) that is blocking the update.

What to do?

1. Check for malicious software
1. Access the Control Panel - Programs and Features. Check the list of programs to see if the applications Infonaut, IntelliTerm, Istartsurf, Link Wiz, McafeeWebAdvisor, Phrase Finder, Quick Ref, SuperClick, TermBlazer, TermCoach, WordAnchor, Wordinator, WordFly, or some other malicious program is installed. If installed, it is necessary to remove them from the computer.
2. Perform the Promob update again.

2. Check for antivirus installed on the computer
1. Make sure that the McAfee antivirus is installed on the computer. This antivirus can block the Promob update.
2. Perform the Promob update again.
3. Delete temporary files from Promob Update
2. Perform the Promob update again through the Promob root folder (Local Disk (C:) \ Program Files \ Promob \ Promob (Promob Name) \ Program \ bin \ Update \ PromobUpdate.exe).
4. Check Internet Limiters
5. Submit Promob Update logs
1. Locate the Promob Update logs and open a request to Promob Technical Support by attaching the files for verification.
We are a family owned and operated business.