What happens?
When submitting a design to Cut Plan Plugins, the Invalid COMPONENT Attribute unconformity is displayed.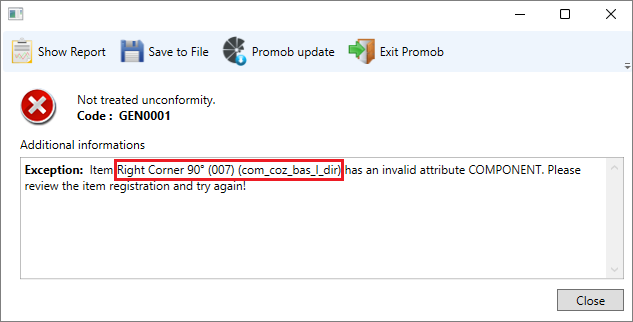 Why does it happens?
The unconformity occurs due to the validation of some items when they are sent to the cutting plan, and adjustments need to be made to the registration of these items in the library.
What to do?
Correct the Component attribute of the module reported in the notification of unconformity.
1. When identifying the unconformity in a certain design, inform the person responsible for registering the items in the library.
2. Through analysis of the design and the library, the person responsible for the registration will locate the items that need adjustment.
IMPORTANT: After the library adjustments, you need to update Promob, and reinsert in all old designs, the items adjusted in the library.
3. If after updating and reinserting the items, the situation persists, inform the person in charge of the library records again, because there may be some items that still require adjustments, and it may be necessary to repeat the procedures described above.
4. For more information on Correcting Invalid COMPONENT Attribute unconformity in Promob Catalog, click here.