What happens?
When Promob is opened with a double click of the mouse, nothing happens and the program does not open, or the loading screen starts and then ends.
Why does it happen?
The situation can occur for the following reasons:
Promob launch shortcut is corrupt or incorrect;
Some file necessary for Promob to work may be corrupted;
The computer does not meet the minimum requirements indicated for the functioning of Promob.

What to do?
Solution 1: Remove cache files
1. Access the directory: C:\ProgramData\Procad\Promob (Promob name);
IMPORTANT: If the ProgramData folder is not showing, it may be hidden. To unhide click here.
2. Locate and delete the TokenCache.dat and LocalCache.dat files;
3. Open Promob and check if the situation persists.
Solution 2: Create Promob shortcut
1. Open Promob from the root folder via Local Disk (C:)\Program Files\Promob\Promob (Promob Name)\Program\bin\Promob.exe directory;
2. If Promob opens via the root folder, delete the current shortcut and create a new shortcut on the Desktop.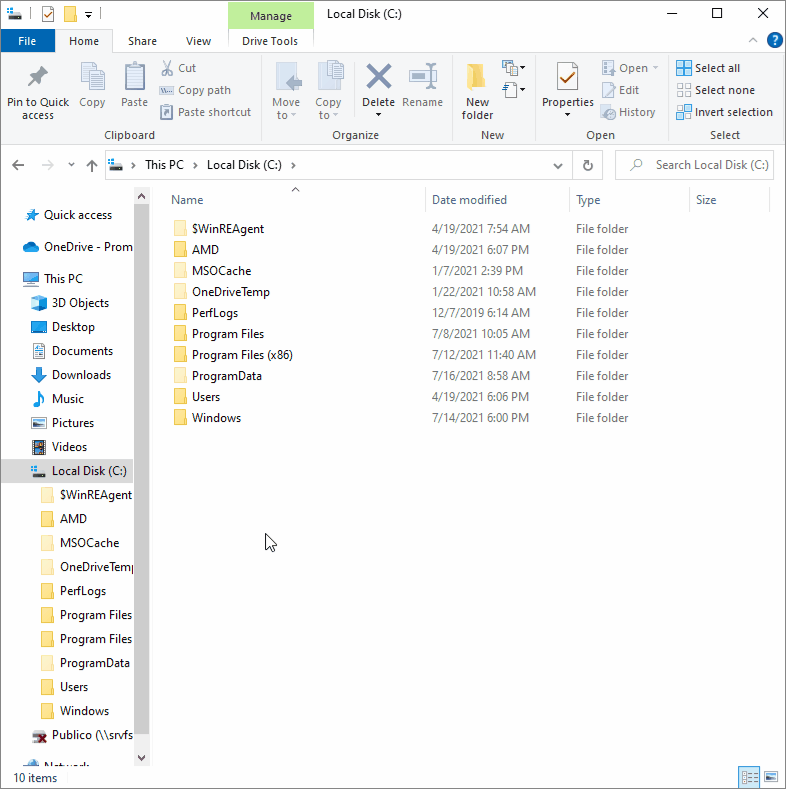 Solution 3: Update Promob
1. Update Promob with full verification.
Go to the directory Local Disk (C:)\Program Files\Promob\Promob (Promob Name)\Program\bin\Update.

In the opened folder, locate and run the file PromobUpdate.exe with two clicks, perform the Promob update and once finished, start it again, enable the Full scan option and click Scan.



2. Open Promob and check if the situation persists.

Solution 4: Check installed program
1. Access the Control Panel - Programs and Features;
2. Check if the YAC (Yet Another Cleaner) programs; MalwareBytes, Bytefence or Segurazzo/SAantivirus are installed on the computer;
3. If one of these programs is found, uninstall it from your computer.

Solution 5: Check Promob Installation Folder
1. Go to Disk C:\Program Files\Promob\Promob (Promob Name) directory;
2. Check that the Program and System folders are displayed correctly.
In the root directory there must be at least 3 folders: Program, System and Uninstall.
If any of these folders are not present, reinstall Promob.
Solution 6: Reinstall Promob
Uninstall Promob and install it again via Promob Downloader. If the situation persists, go to solution 7.
Solution 7: Check Promob usage requirements
NOTICE - READ BEFORE PROCEEDING
The procedures described below were developed from tests carried out by Promob's Technical Support and obtained effective results. It is important to consider that carrying out this step-by-step approach may influence your computer's settings and operation. Thus, Promob advises that this procedure be carried out by a trusted IT technician. Promob is not responsible for performing computer maintenance and configuration services.
1. Microsoft .NET Framework
Check that the minimum version required by Promob of the Microsoft .NET Framework (4.6.1) is installed on the machine. If not installed, install the component;
Verify that Microsoft .NET Framework features are active. If the feature is disabled, enable the component.
2. Windows
Make sure Windows is up and running;

If it is not up-to-date, request assistance from a technician you trust to update the operating system through

Windows Update.

3. Physical components of the machine (hardware)
Check if the computer requirements meet the minimum specifications suggested by Promob. If not, we advise you to contact a trusted IT technician to update the machine components according to Promob's recommendations. If you don't know how to find the machine information,

click here.
Solution 8: Open a request for Promob Support

If the situation persists even after all the above processes and all Promob usage requirements are met, we advise you to open a request to Promob Support containing the following information:
Machine information. To check how to find the information, click here;
A screenshot of the machine's Programs and Features.