In Mooble Design, the shopkeeper can add or remove users who will have access to his account and also edit the permissions of each user.
For this:
1. Click on the account name;
2. On the Account screen, click on User Control;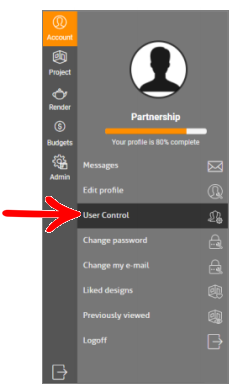 3. Click on Add User and fill in the necessary information;
There are four types of users: Custom, Owner, Seller, and Designer;
4. Selecting one of the users, it is possible to edit the permissions through the Enable and Disable buttons: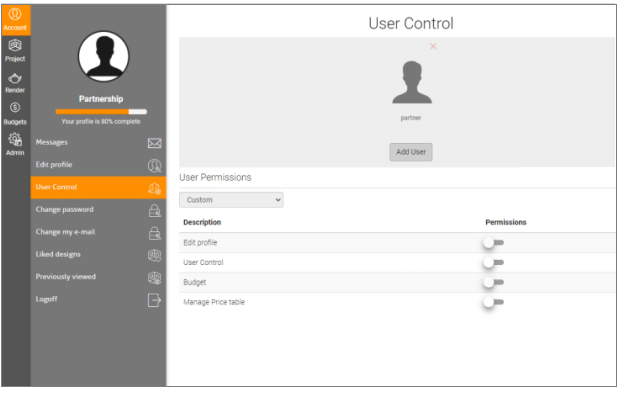 Edit profile: Allow access or not to the Edit Profile page, to change the account data;
Subscription: Allow access or not, to the information on the Subscription page (subscription information used in the account, as well as requesting cancellation or making payments); IMPORTANT: Subscription permission only available to shopkeeper user.
User Control: Allow access or not, the User Control page, to manage and add new users. IMPORTANT: User control permission only available for partnership user.
Budget: Allow or not, generate design budget
Table Price: To allow or not to have access to the Table Price, where the values of the products are registered.
OBSERVATIONS:
When selecting a user type, the permissions assigned to that user type will be automatically filled.
Note that when manually changing the permissions, the user type is automatically changed as a Custom user.
5. Click Save to complete the addition;
6. To remove the added user, click on the X in the user window.