What happens?
Promob Downloader is not installed or does not start after installation.
Why does it happen?
The situation can occur for the following reasons:
Very old version installed
Windows components failure
Browser Configuration
Lack of permissions for the user logged into Windows
What to do?
Solution 1: reinstall Promob Downloader
Uninstall the Promob Downloader and install it again from the Promob Services Portal. If the situation persists, go to solution 2.
Solution 2: run Promob Downloader as Administrator
Run the program as an administrator by locating the Promob Downloader icon on your desktop, right-clicking on it and selecting the Run as administrator option. If the situation is occurring when installing Promob Downloader, run the installation file as administrator. If the situation persists, go to solution 3.
Solution 3: temporarily disable antivirus
1. If you have an antivirus installed on the machine, disable it;
2. Run Promob Downloader or installation setup again;
3. If Promob Downloader opens, ask a computer technician you trust to configure the antivirus filters so that it does not block the executable files and folders of the Promob Downloader. If the situation persists, go to solution 4.
Solution 4: check installed software
1. Access the Control Panel - Programs and Features. Check the list of installed programs to see if the following applications are found:
- PlaysTV
- Raptr
- MalwareBytes
- Bytefence
- YAC (Yet Another Cleaner)
- PlaysTV
- Segurazzo (SA Antivírus)
2. If any of these applications is installed, perform the uninstallation by double-clicking on it;
3. If none of the applications are found or the situation persists even after uninstalling, proceed to solution 5.
Solution 5: configure Internet Explorer
1. Delete browsing history from Internet Explorer;
2. Restore and reset Internet Explorer;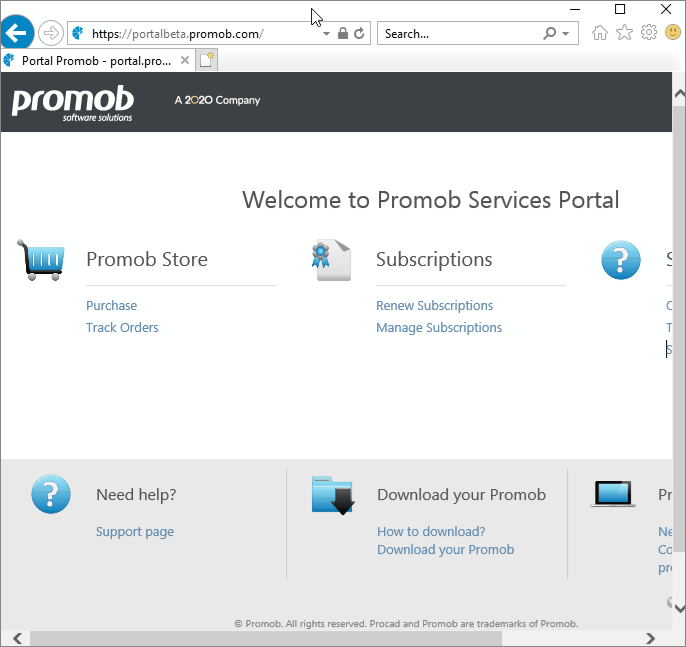 Solution 6: check usage requirements
1. Microsoft .NET Framework
Check that the minimum version required by Promob Downloader of the Microsoft .NET Framework (4.5) is installed on the machine. If it is not installed, install the latest version of the component. IMPORTANT: The minimum requirement for Promob Downloader is version 4.5, but we advise you to install version 4.8 as it is the requirement for using Promob;
Verify that Microsoft .NET Framework features are active. If the feature is disabled, enable the component.
2. Windows
Make sure Windows is up and running;
If it is not up to date, request assistance from a technician you trust to update the operating system through Windows Update.
Solution 7: download to another computer
As a palliative, it is possible to download Promob files on another computer. After the download is complete, do not install Promob and copy the folder containing the downloaded files (usually located on the desktop) and transfer it to the computer where you want to install Promob.