What happens?
When open the Promob Downloader screen, a message is displayed, indicating that it cannot be updated.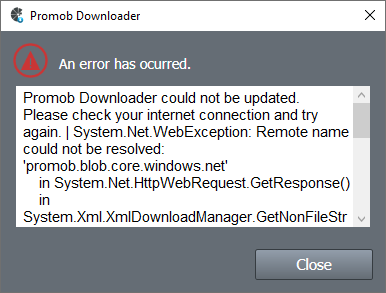 Why does it happen?
The situation occurs due to the internet connection with fluctuation or low speed which cannot download the Promob Downloader update before starting the Promob download.
What to do?
Solution 1: Download Promob Downloader again
1. If Promob was already installed on the machine before it started, please uninstall and download Promob Downloader again so that the most current version is installed.
Solution 2: Disable the machine's antivirus
1. If you have an antivirus installed on the machine, disable it;
2. Open Promob again;
3. If Promob opens, ask a computer technician you trust to configure the antivirus filters so that it does not block Promob executable files and folders. If the situation persists, go to solution 3.
Solution 3: Check programs installed on the machine
1. Access the Control Panel - Programs and Features. Check the list of installed programs for the following applications to be found:
MalwareBytes
Bytefence
PlaysTV
Segurazzo

(SA Antivirus)
2. If any of these applications is installed, perform the uninstallation by double-clicking on it.
3. If none of the applications are found or the situation persists even after uninstalling, proceed to solution 4.
Solution 4: Open a request to Promob Support
If the situation persists even after all the above processes and all Promob usage requirements are met, we advise you to open a request to Promob Support containing the following information:
Print of the screen with the displayed message or its description. Example: When opening Promob Downloader the following message is displayed: Promob Downloader cannot be updated;
Screen print of programs and computer resources.