What happens?
When making the Promob budget, the following message is displayed: Unable to retrieve online budget [Número de série não encontrado].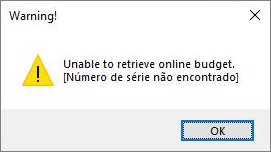 Why does this situation occur?

The situation may be due to your license status or a corrupted file.
How to check this situation?
1. Log out of Promob
In the top right corner of Promob click on your user name and select the Logout option;
Confirm the operation in the message displayed by clicking Sim;
After closing Promob, reopen it, log in with your email and password and check if the situation persists.
2. Check the license status on the Promob Services Portal
Check the serial number you are filling out, compared to your license management on the Portal.
If the serial number is expired or incorrect, check the license status.
3. Open a request to Promob Support
If the situation persists even after all the above processes and your Promob license is active, we advise you to open a request to Promob Support containing the following information:
The message displayed when budgeting;

Procedures already performed.