Symptoms
When you open projects created on system A through system B in the Connect version, the following message appears: At some point, this project was saved using a different system.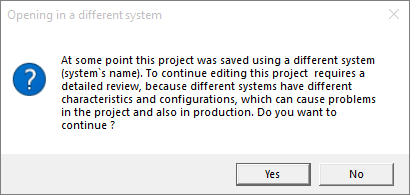 Cause
The situation occurs because, aiming at the information security of each manufacturer, Promob started to validate the system in which the Project was created, displaying the message above when opening projects if it identifies that the project was created/modified in a different system.
Solution
Solution 1: Click on Yes

Click Yes on the displayed message, so the project will be reviewed and then started.
Solution 2: Open request
Open a request to Promob Support to verify the situation.