IMPORTANT: the product options for sale, values, and payment conditions are presented according to the country configured in the account (registration) of the Portal. If you wish to purchase products from a different store in the country of registration, you must create a new account.
The products fall into two groups:
1. Available Products: are the products that do not require authorization from the factory to be purchased. For example, the Promob Plus, Promob Arch, among others.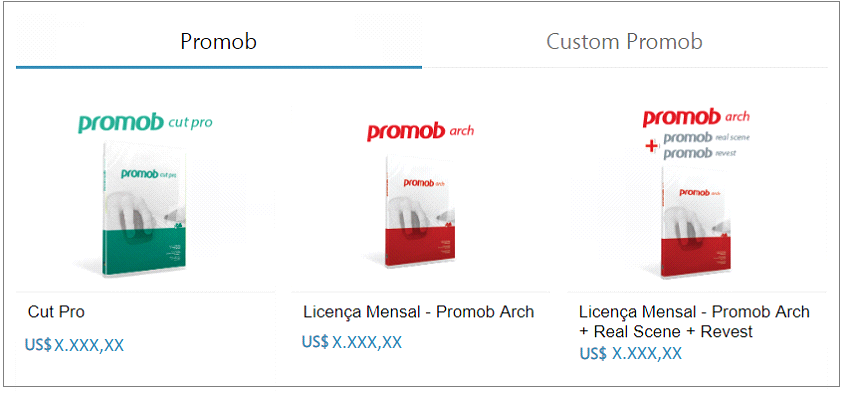 2. Restricted products: these are products that require authorization from the factory to be purchased For example, Promob Studio, Promob Lite e Promob Premium.
To buy Promob:
1. Access the Promob services Portal and log in with your account information.
2. Select Promob Store - Buy Products.

3. Promob products are displayed.
Para adquirir um produto disponível:
On the Promob tab, click on the product you want to purchase.
The commercial policy information product details, technical information, and payment methods for the selected product will be displayed.
Click in Buy Now!
On the My Cart page, verify the data that appears, and then click Next.
Define the payment method of your choice, and complete the order.
To purchase a restricted product:
On the Custom Products tab, click the product you want to purchase and select Request Authorization.
The Authorization Status page for your account will be displayed, with the message Your request has been succesfully registered! You will be notified by email of the progress of this request.
After approval of the factory authorization, this product will be available for purchase on the available products.