IMPORTANT:
This service runs in the cloud, in order to generate files for integration with the cutting plan.
See below for the latest news:
Release 211
Date: 08/22/2023
Minimum Cut Pro version 1.2.5.14 or higher;
Cutting Plan
1. Updated the Output of the cutting plan, to display the number of phases of each sheet in the cutting plan.
2. Added a new Input in the cutting plan, which allows optimizing the plane seeking to minimize the displacement of the saw to the maximum. For more information, click here.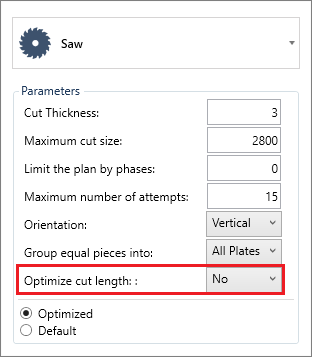 Cutting Plan
1. Fixed the situation where the cutting plan incorrectly calculated the number of phases in specific cases of grouped part sequences.
Release 207
Date: 06/13/2023
External trimming
1. Fixed situation where cuts referring to external trimming were not displayed.
Release 203
Date: 04/11/2023
Cutting Plan
1. Fixed the situation where the cut plan was not generated due to the dimensions of some parts. (1971853)
2. Fixed the situation where the cutting plane was not generated when using the stack panel option. (1972101)