What happens?
When starting the Promob download, the message The file was not found is displayed.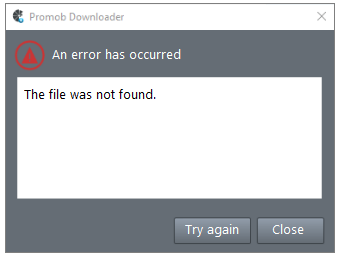 Why does it happens?
The situation occurs due to network blockages, third party software or file corruption.
What to do?
Procedure 1: Install Promob Downloader
1. Access the computer's Control Panel - Programs -Programs and Features.
2. Uninstall Promob Downloader.
3. Download again according to the procedures described in this article.
Procedure 2: Check Installed Apps
1. Open your computer's control panel, go to Programs - Programs and Features.
2. In the list of installed applications, check for the following applications: Bytefence, SAntivirus, Segurazzo or WebAdvisor by McAfee.
3. If so, uninstall the application found and then restart the computer.
4. Test the Promob download again.
Procedure 3: Check internet connection
1. Restart your internet modem or connect your computer to another network to test saving projects again.