What happens?
When running Publisher, at some point the message Unable to load the required compatibilities information is displayed.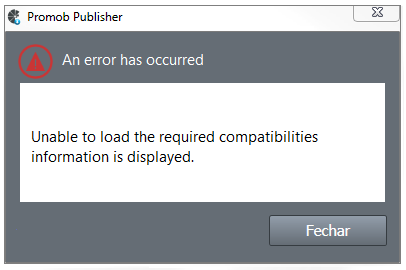 Why does it happens?
The message can occur when:
1. The published system has system plugins whose compatibility version is higher than the Promob Catalog version through which the system is being published.
2. The published system has system plugins, but there is no media of these plugins active for All.
3. The Promob Catalog Publisher is out of date.
What to do?
1. Download the latest Promob Publisher ;
2. The 70090.zip file was downloaded;
3. Unzip the folder;
4. Copy the files inside the folder to the C:\Program Files\Promob\Promob Catalog\Program\Publisher directory;
5. Open Promob and repeat the operation;
6. If the situation persists even after performing the above procedures, open a request to Promob.