For the functionality to enable/disable the items available in Promob it is necessary to activate the Library Configurator plugin. If you do not have this plugin yet, contact Promob to purchase a subscription.
With the plugin activated, start a new project to make the necessary settings. For this:
1. Click on the File - New Client menu.
2. The screen will open for the customer data to be filled. These data will follow the project until the end of the process. In this case, the customer data will not be used in the system settings and can be filled in with the factory data.
3. After filling the data and clicking OK, Promob will open.
The first time Promob Maker is opened, the N icon will be displayed next to all items in the module bar.
The N icon refers to the NEW status and will always be displayed next to the new items made available by Promob. Items with a status of NEW will not be available/visible to the store. These items can only be viewed on the subscription that has the active Library Configurator plugin.

In the Build Closet, all items will also be displayed with the icon N.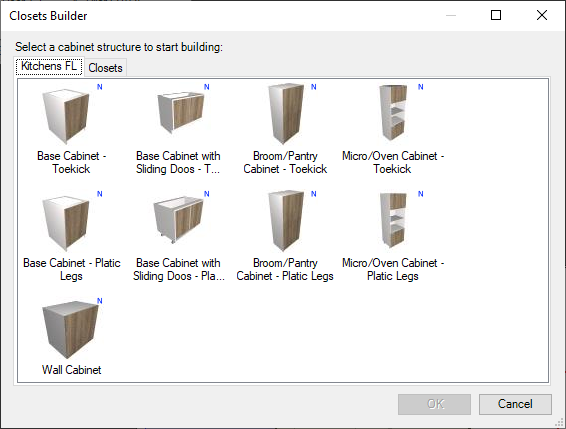 The behaviors for the module bar and Build Closet are the same, that is, the logic of enabling and disabling the modules for the Promob Maker Design version.