Plates with exactly the same cut layout can be stacked using the Stack Panels functionality.
The advantage of using this functionality is that equal sheets can be stacked at the time of cutting, that is, they can be cut at the same time, thus optimizing production.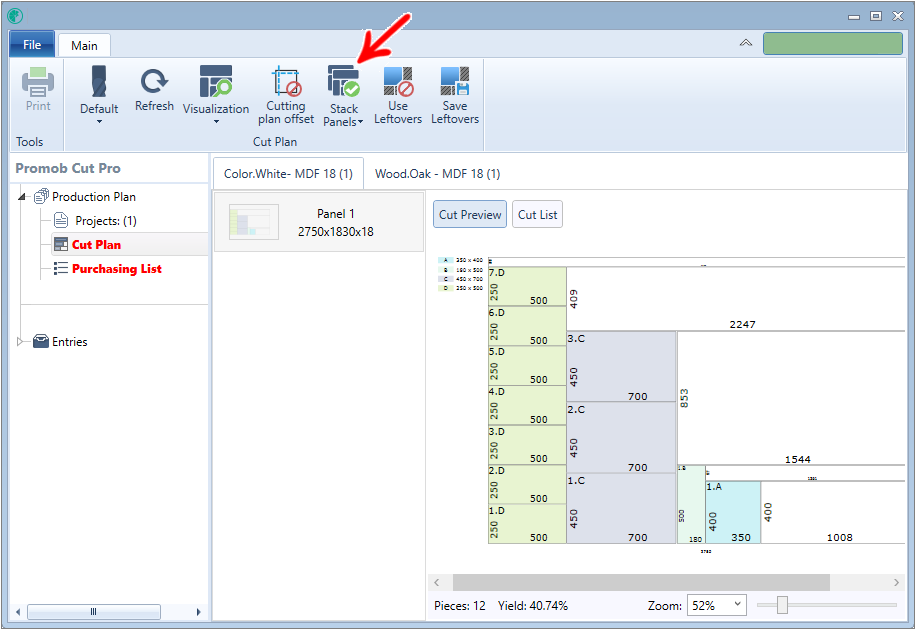 There are two options for stacking, they are:
Priorizing optimization: Cut Pro will perform the stacking of plates with priority in the utilization, that is, it will stack the maximum of plates, however in situations that the stacking affects in the optimization of the plan, it will prioritize the utilization of the plate.
Many plates as possible:

Cut Pro will stack as many plates as possible in the generation of the cutting plane, even if this means less use of the plate.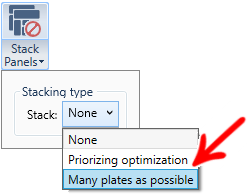 When enabling Stack Plates, the plates will be stacked, and displayed in the unified cut plan: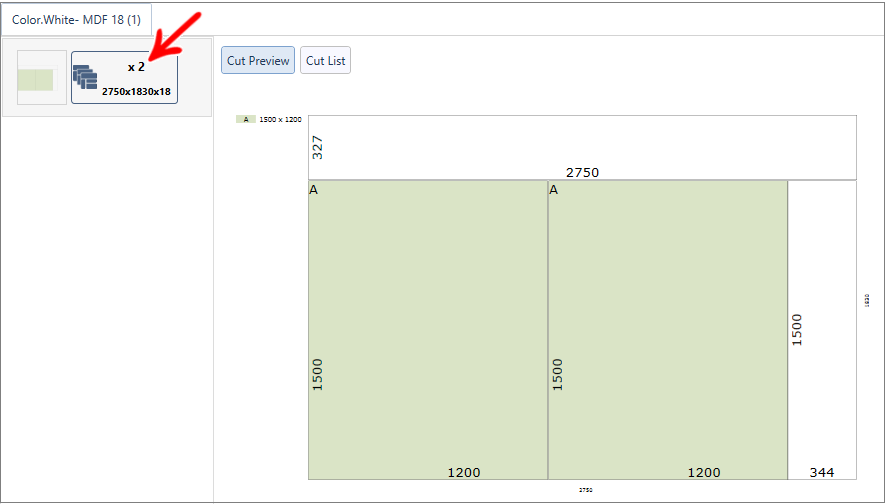 In the Cut List there is the individual detailing of all the plates that are stacked:
IMPORTANT: Plates with exactly the same cut layout, are plates that have the same pieces, with the same dimensions, with the same raw material and with the same application of edge tape. Examples:
1. Plates with exactly the same cut layout and which could be stacked:
2. Plates with similar cut layout, but not exactly the same. Note that one of the pieces called "Additional piece" has border tape applied to the 4 sides and the other does not. These plates could not be stacked:
Identification of parts in stacked plates
The identification of stacked parts changes from the configuration mode used, if the Complete mode is being used, the stacked plates display an alphabetical identifier to identify parts with equal dimensions: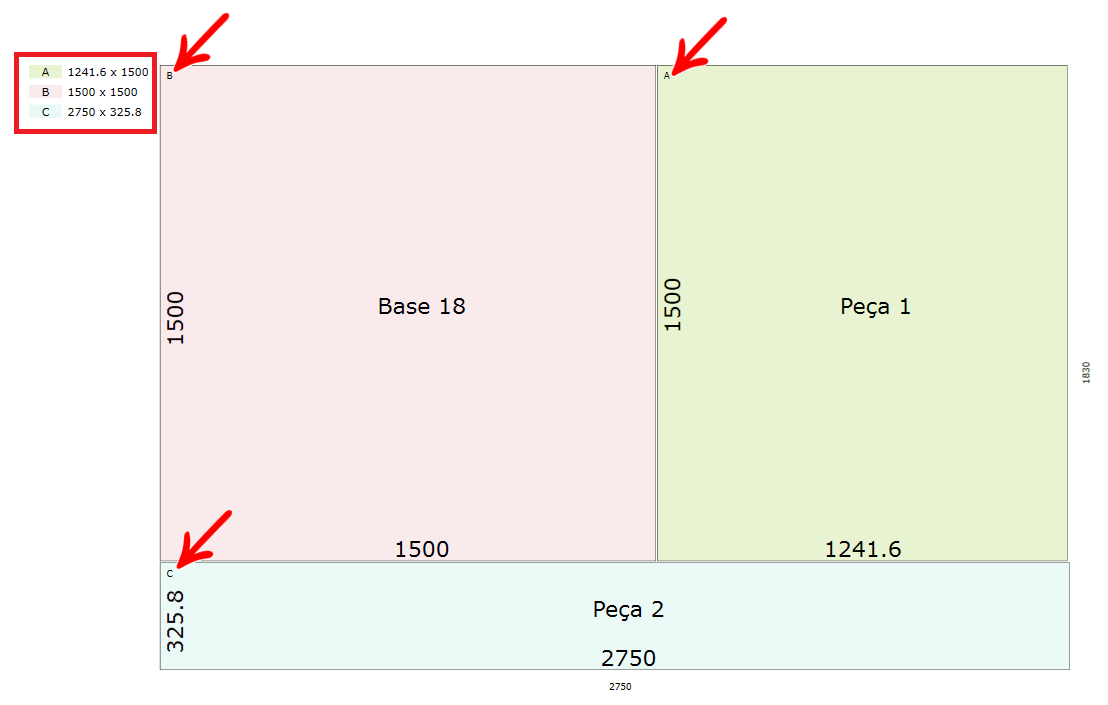 If Cut Pro's Simplified mode is used, parts identification is made from the unique ID of the item present in the register made in the Projects tab. Therefore, there are situations in which two ID's are displayed in the same piece, when there is a greater repetition of the same pieces, indicating that there is the stacking of plates.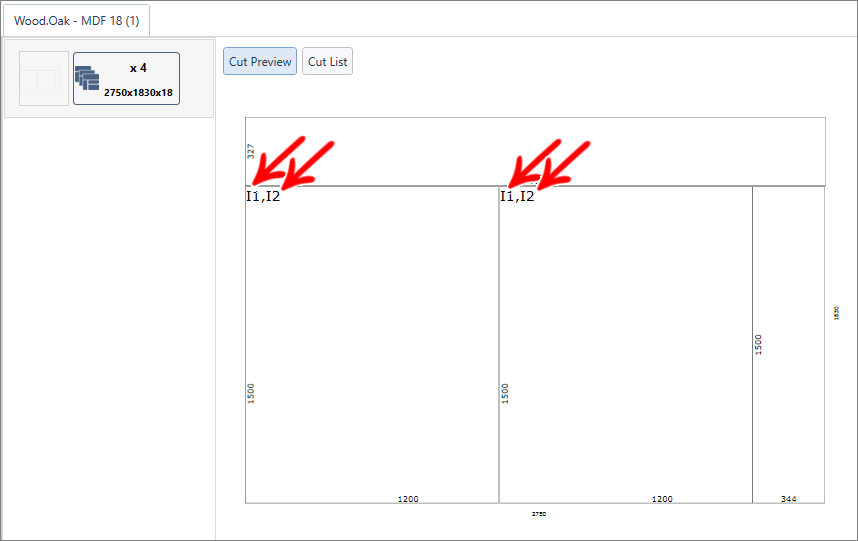 We also suggest the identification of plate stacking for both configuration modes, Complete and Simplified through printing.
Review Cut Pro's Complete configuration and Simplified configuration here.
Print
The printing of stacked plates changes from the configuration mode used, whether the Complete or Simplified mode of Cut Pro is being used.
Check below, how the print is displayed for each mode.
Complete Mode
The printing of a cut plan that has panels stacked in Complete mode displays the information in the second line of the header informing the number of panels: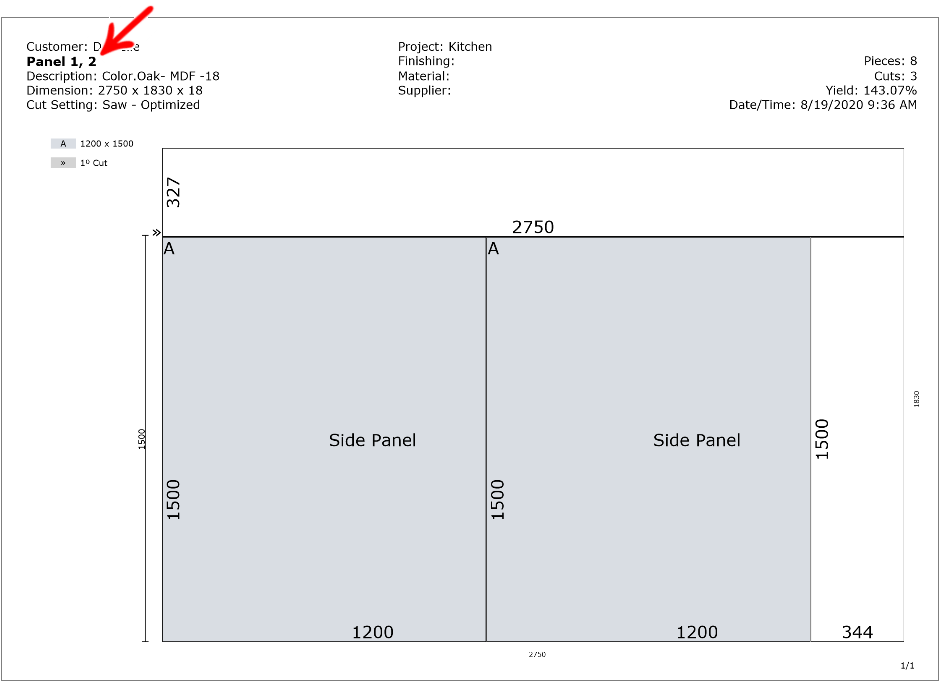 Simplified Mode
The printing of a cut plane that has plates stacked in the
Simplified
mode, displays the information at the top of each cut plane informing in parentheses the number of times that the cut plane layout is repeated, that is, stacked.