Available in the products
The 2020 Installers App allows the management of furniture assemblies, offering a panel with proposals and graphics by period and status of each project. In it, it is possible to accept proposals, make notes, manage a Calendar of appointments and the status of an assembly. All directly in the application.
This application is intended for installers and assemblers of stores, or independent professionals, without employment relationship with furniture stores. Its main purpose is to enable communication between furniture stores and furniture installers/assemblers, allowing the administration of project installations by the store's installers or third-party installers.
When creating an installation it is possible to assign it to an installer previously accepted by the store, or to request the installation from a range of unaffiliated installers, who may express interest in providing this service. For more details about creating an installation, see this article.
To start using this feature, your store must initially express interest in searching for installers and some parameters must be adjusted. Through the menu Settings - Configurations - Installers it is possible to do all the management of installers. In this menu the user has access to two tabs: Installers and Settings.
Installers
The Installers tab lists all installers that have applied to join your company. These installers are listed in three different groups:
1. New: installers whose application status is Pending (New installers who have applied to join the company through the app will appear in this group);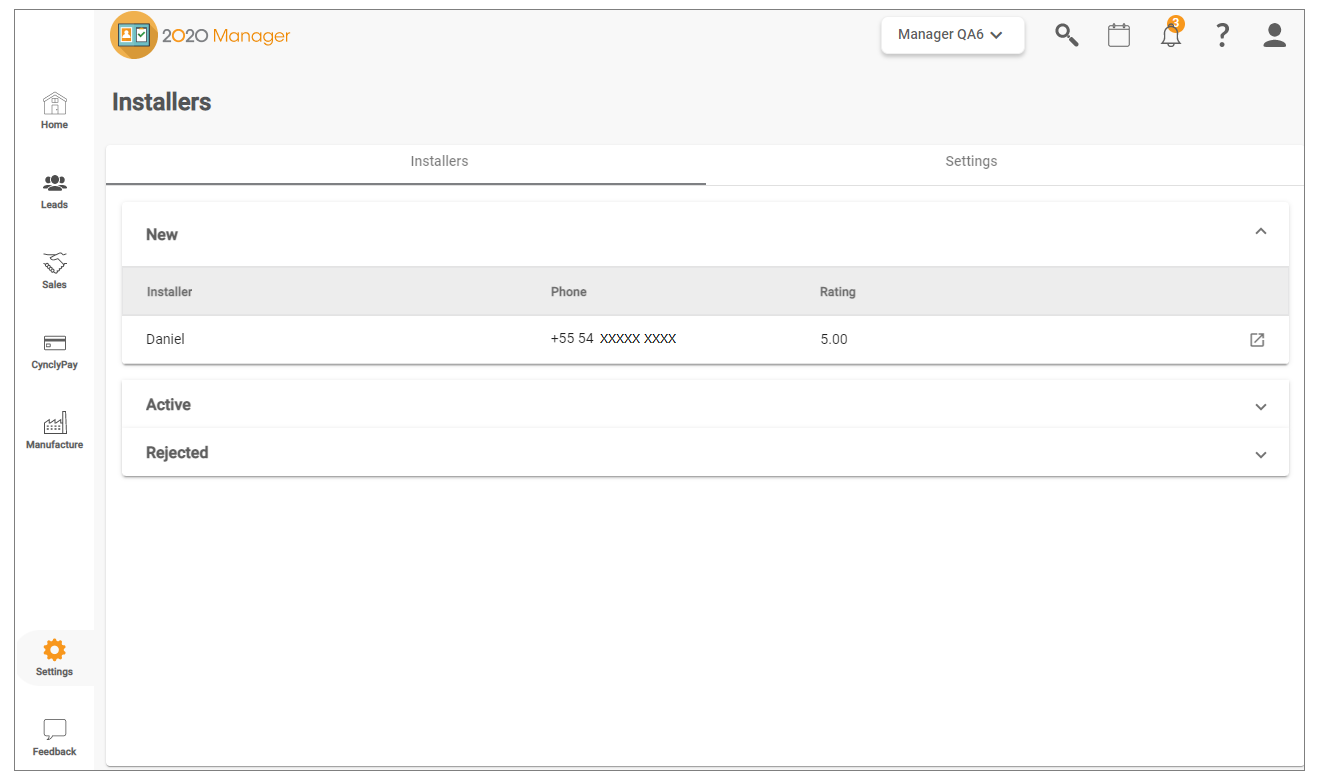 By clicking on More Information next to the installer's name, you can view the rest of the installer's information and approve or reject it.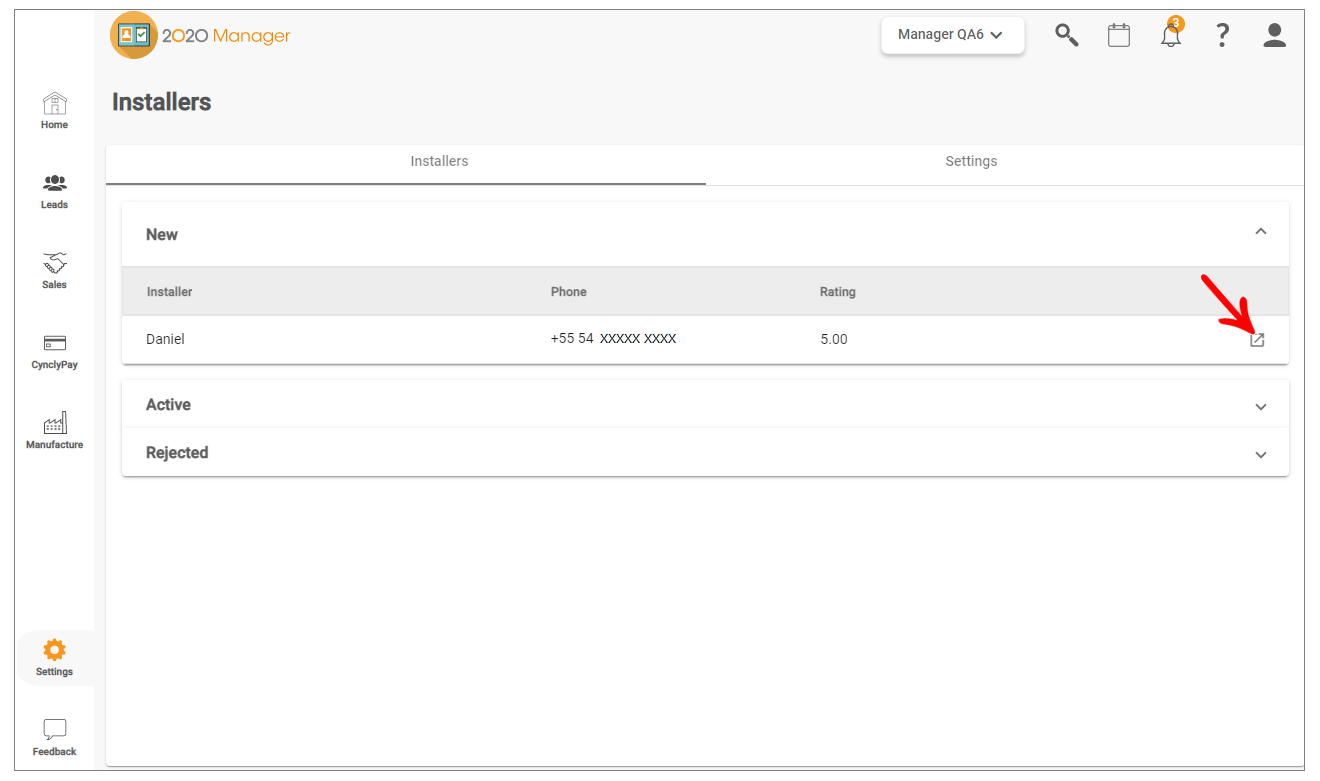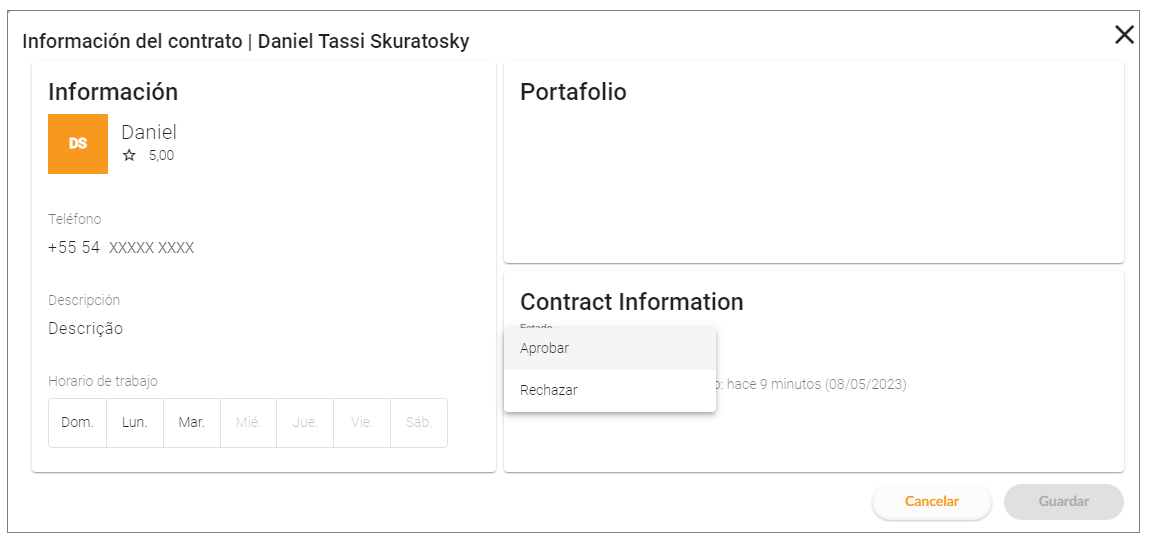 2. Active: installers whose request status is Approved;
When the installer is approved, it appears in the Assets tab, and you can link it to an installation in a negotiation.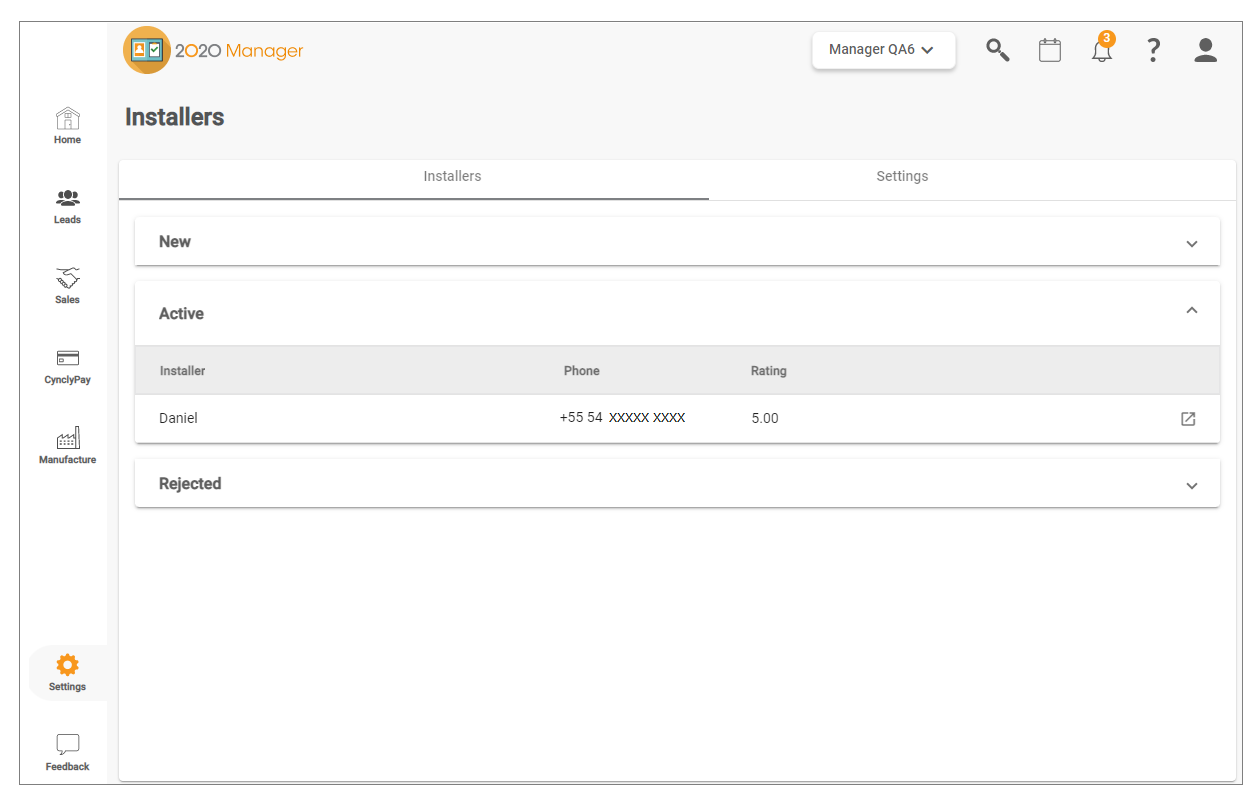 3. Rejected: Installers whose request status is Rejected. When the installer is rejected, it is displayed in the Rejected tab.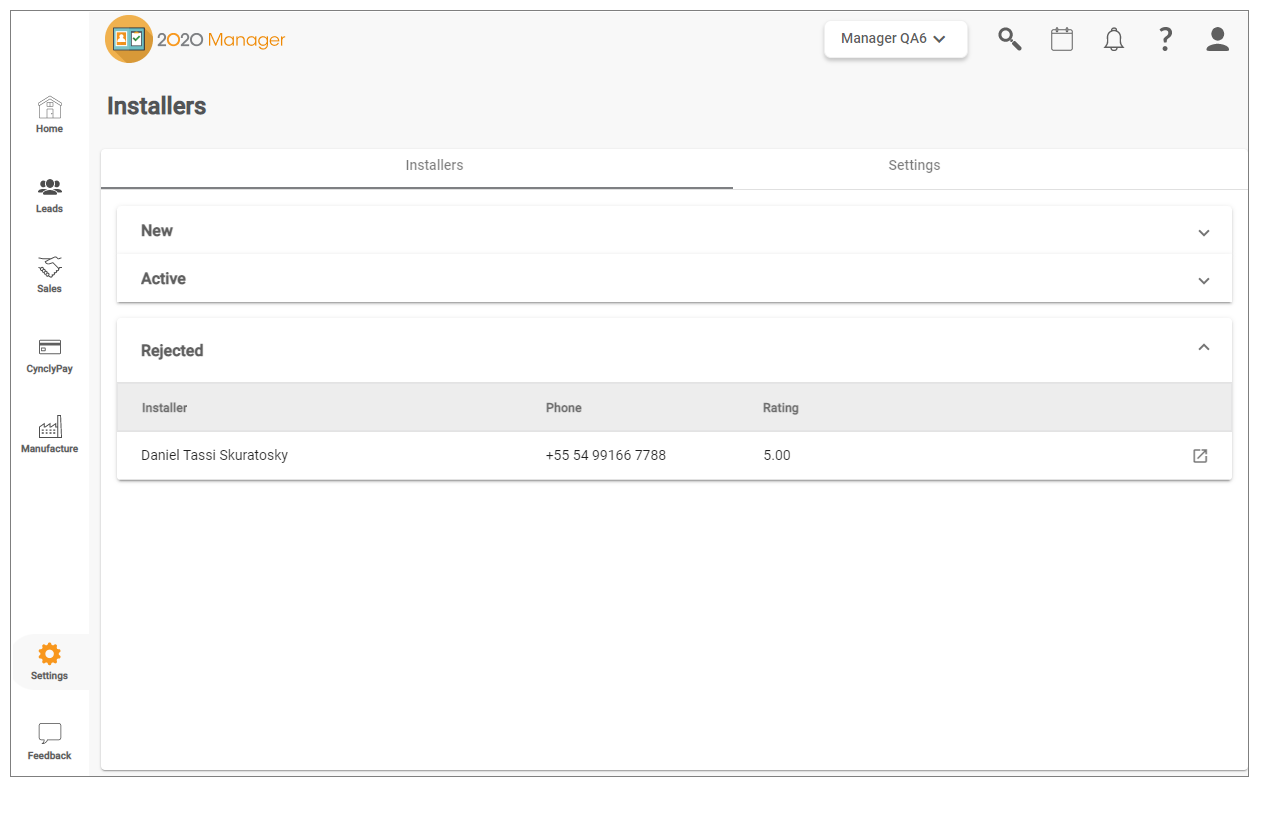 Settings
In the settings tab the user can configure the following information:
Responsible users: these are the users responsible for the installation part in the company. They will receive notifications regarding iterations with installers, as well as the progress of the installations.
Search for new installers: as soon as this field is checked, your store will be visible to installers through the App. They will be able to request your approval to become part of your team of installers. As soon as this occurs, you will receive a notification and the profile of this installer will be visible in the Installer List.
Store data: These fields need to be filled in so that your store can be identified in the application. It is through these data that the installer will be able to contact you.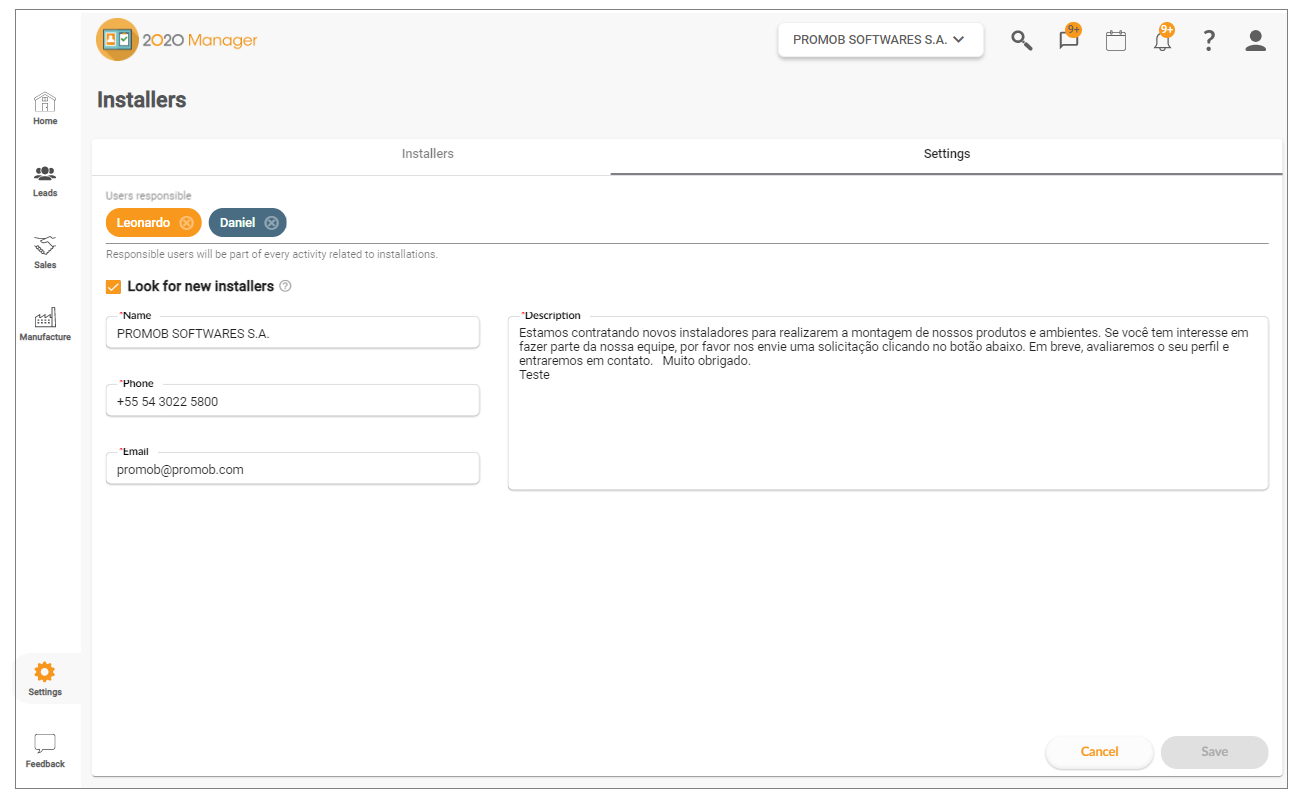 IMPORTANT: Upon saving, the changes will be immediately applied to the Installers App and 2020Manager.
From this you can now ship and maintain installations related to these installers. For more information about how to schedule and control an installation, click here.