What happens?
When updating Promob Update, the message "Promob Update could not be updated. Check your internet connection and try again." is displayed.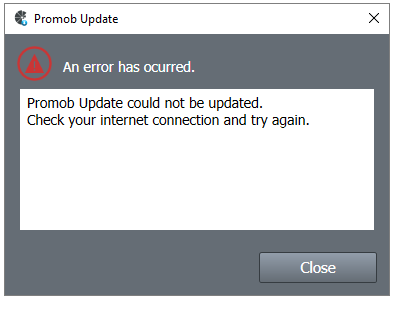 Why does it happen?
The situation occurs because the user's connection has an Internet access limiter (proxy, firewall, antivirus, among others) that is blocking the Promob update.
What to do?
Solution 1: Check for malicious software
Access the Control Panel - Programs and Features. Check the list of programs to see if Infonaut, IntelliTerm, Istartsurf, Link Wiz, McafeeWebAdvisor, Phrase Finder, Quick Ref, SuperClick, TermBlazer, TermCoach, WordAnchor, Wordinator, WordFly or any other malicious programs are installed. If installed, it is necessary to remove them from the computer.
Perform the Promob update again.
Solution 2: run Promob Update as an administrator
Go to Local Disk (C:) \ Program Files \ Promob (name) \ Program \ bin;
Locate the ProcadUp.exe file, right-click and select the option Run as administrator;
The Promob update will begin.
Solution 3: remove proxy settings
Access Local Disk (C:) \ ProgramData \ Procad;
Locate and remove the Promob.proxy.config file;
Then, in the same folder, access the Promob folder in question;
Locate and remove the Proxy.config file.
Still in the Local Disk folder (C:) \ ProgramData, locate the Promob folder and delete the file Promob.Proxy.config.
Solution 4: check your Internet connection
Check your Internet connection. To proceed with the update, the computer must be connected to the Internet.
Solution 5: temporarily disable antivirus
Temporarily disable antivirus
Solution 6: replace the Promob Update
Solution 7: check Internet limiters
Request assistance from the computer technician to check the presence of Internet access limiters (

proxy, firewall, antivirus, among others) or viruses that may be preventing the connection to the Promob server. Request the

release of the ports, websites and IPs

used by Promob and its products.
Solution 8: change Internet Explorer settings
Access Internet Explorer;
In Settings, click Internet Options;
On the Connections tab, click on LAN Settings;
Uncheck the option "Automatically detect settings";
Click OK;
Try again to update Promob.
IMPORTANT: If the situation persists, undo the change.