IMPORTANT:
• This procedure applies to the Argox 214 Plus and Zebra GC420t thermal printers.
• The recommended settings for images sent to Promob Cut / Cut Pro are optimal resolution of 203pixels / cm and bit strength 8.
To view the resolution information for an image generated by Promob Start, perform the following procedures:
1. Locate the image of the label, right click on the image and select Properties;
2. Select the Details tab;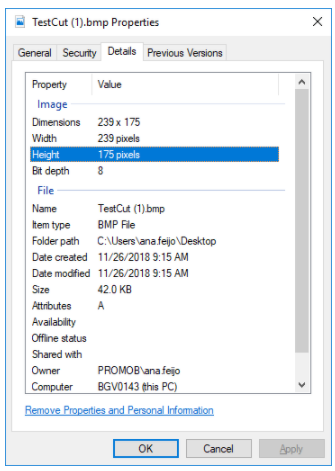 To verify image resolution, you must perform the following procedures:
1. Download and install paint.net from the official website https://www.getpaint.net/download.html on the computer where the images are;
2. Open the desired image with paint.net;
3. Access the menu Image – Resize;
4. In the Resolution option change from pixels / cm to pixels / inches.