Promob Cut Pro allows the movement of parts on the
Cut Plan
. This movement is only available for the
Saw
cut pattern.
IMPORTANT: The Cut Manager files will not be generated if the cut plan has been edited by moving parts
To move the parts:
1. Click on the Cut Plan;
2.
Click the
Enable Moving
button;

3. Move the pieces by clicking on them and dragging them;
4. To rotate the pieces, double-click on the piece to change the direction;
IMPORTANT:
Parts that already have registered vein will have the rotation unavailable;
A symbol will indicate when the part has no indication of the position of the shaft and can rotate;
When this symbol is absent, the part cannot be rotated;
Check the example below of parts with the same dimension, but one has an indication of vein position and the other does not;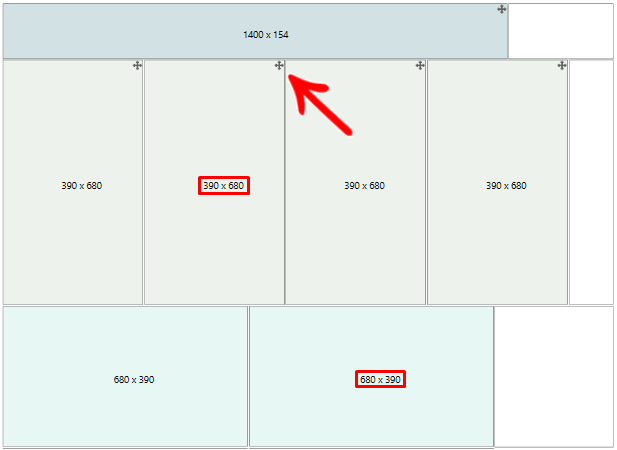 5. To change the direction of the cut, click with the right button on the part;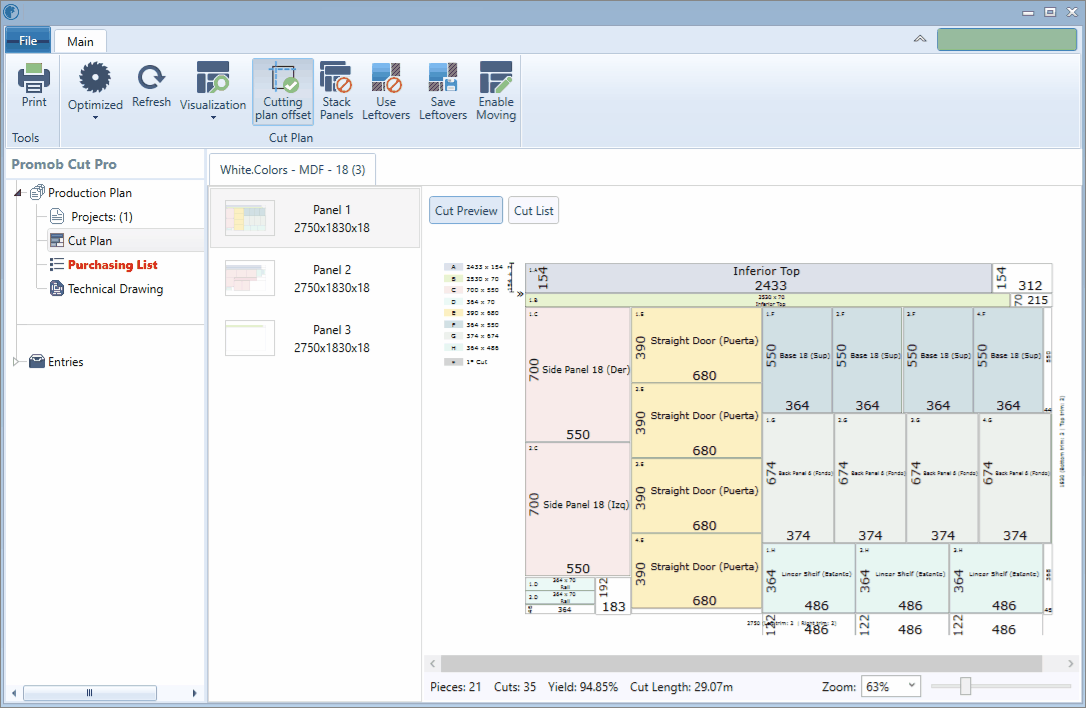 6.
Click
Save
.

IMPORTANT:
As of Cut Pro version 1.2.4.26, the manual movement of parts now follows the same
Reference Point
used in the cutting plan and registered in
Preview
.
In this window, you can drag the parts to facilitate replacement on the plate, where it is possible to drag the parts individually, or all at once. To move a single piece, simply select the piece and drag it to the Transfer Area;
To move all parts at once to the Transfer Area, click Remove all shapes.
Fit Parts
This function allows you to make a random fit that will be defined by Cut Pro. Therefore, with this function:
You will be able to undo all the movements made;
Or assist in moving specific parts, when there is no need to reposition all parts.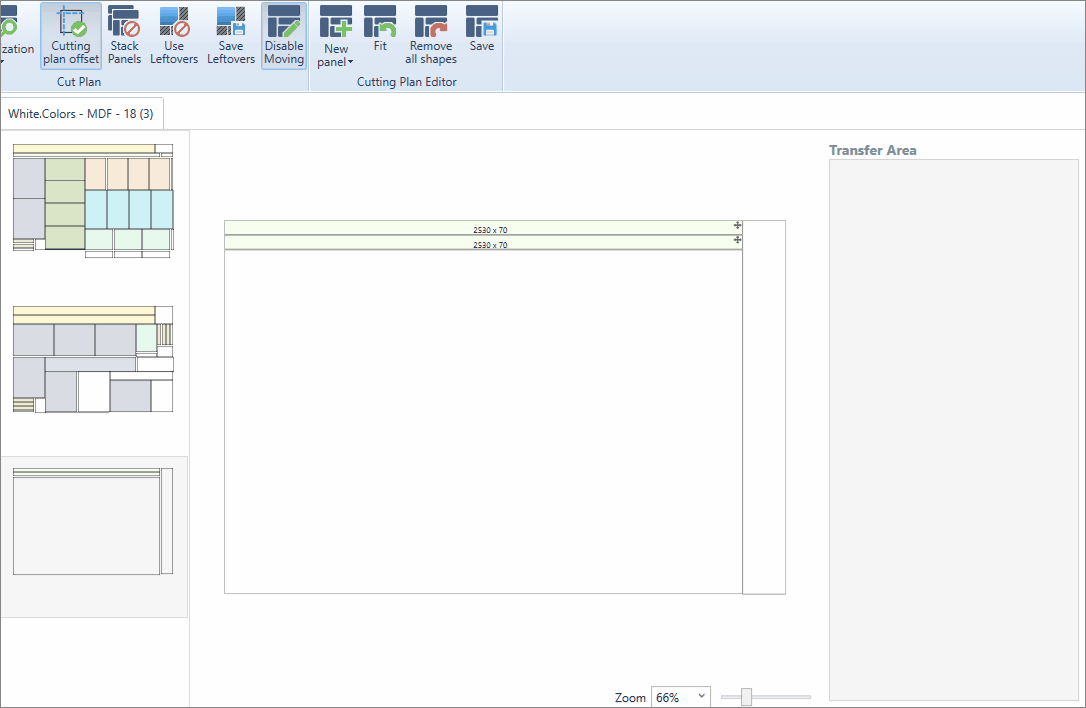 To undo all movements made:
1.
Click on the
Remove all shapes
option;

2.
Click
Fit
;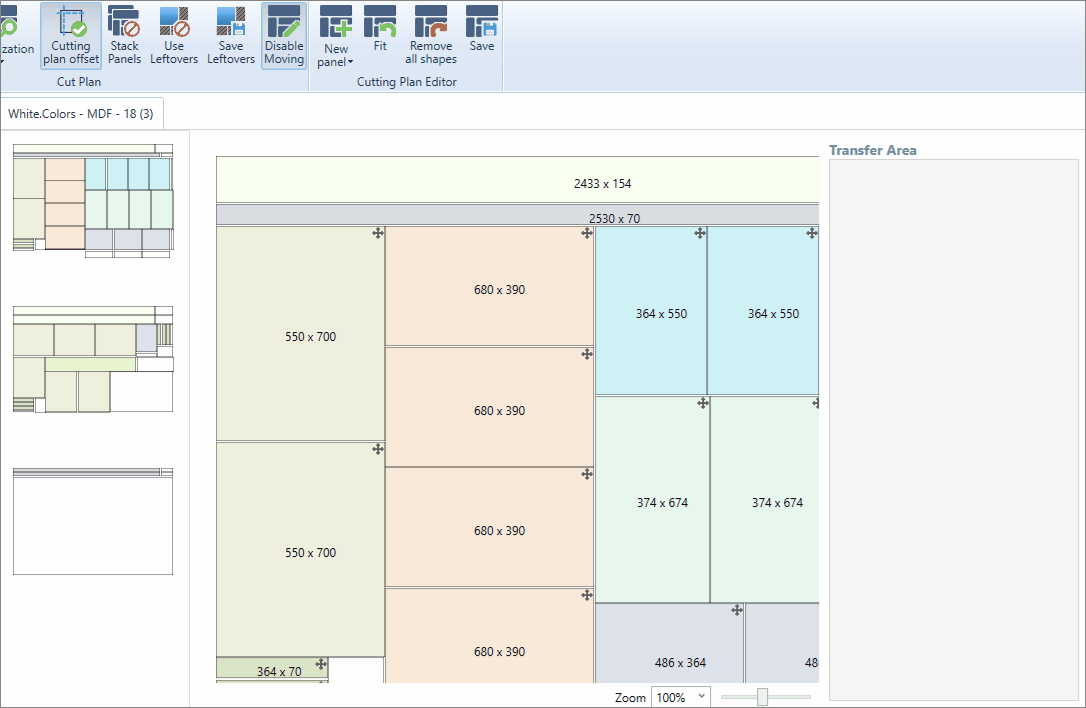 To assist in moving specific parts:
1. With the pieces already on the Transfer Area, place only pieces that you need to adjust;
2.
Then click
Fit
;

The remaining pieces will fit into a position defined by Cut Pro.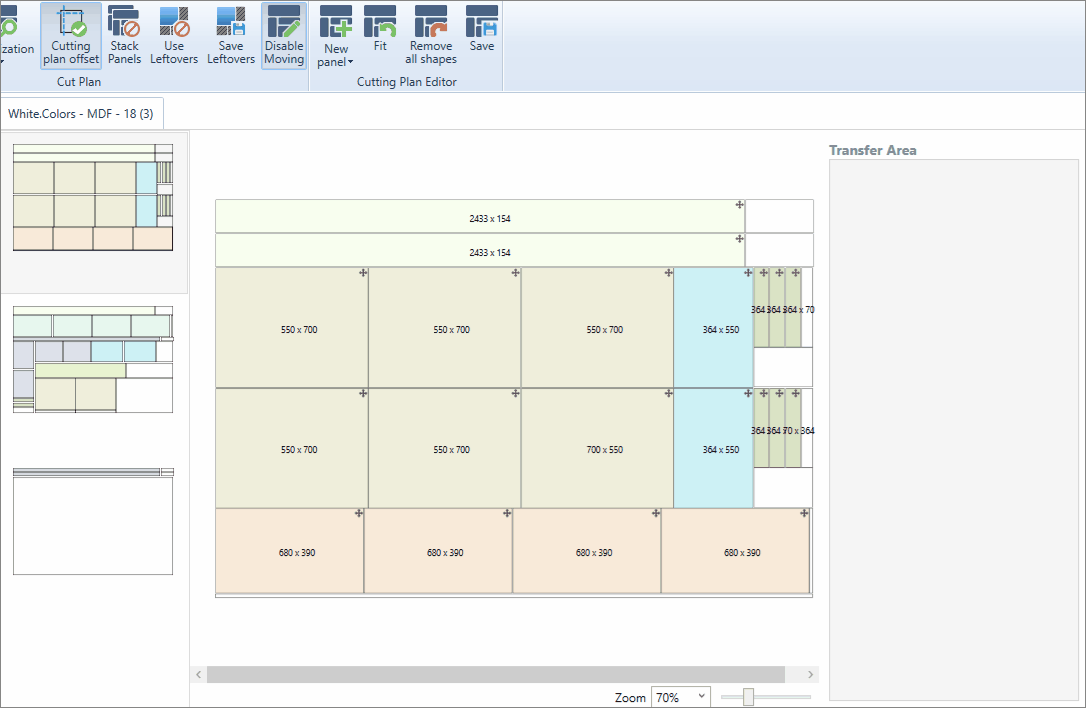 Add plates
To add plates:
1.
Click the
New panel
button;

2. Select the raw material of the plate;
In this tab will appear leftovers that are available for use;
After choosing the plate type, a new plate will be inserted.
3. Use the Transfer Area, to change parts from one plate to another;
OBSERVATIONS:
If a plate is empty, when saving changes, that empty plate will be disregarded.