Available from the version:
Plugin Builder - 1.12.12.37 or superior.
Plugins compatible with the version described above of Plugin Builder.
You can select tools for contour machining by registered material, check the procedures below:
Tool by condition
When you select a contour tool, the descriptive screen is displayed Condition (thickness) and Tools. The condition refers to the thickness of the material from which the contour machining will be processed, with the respective tool selected.
When you open the window for the first time, only one default condition is displayed. This condition originates from the maximum thickness allowed by the machine, and may have a selected tool, this originates from the configuration of the client, if it has a contour tool selected in the previous version of Builder, in this case Plugin Builder 1.12.12.36 or earlier.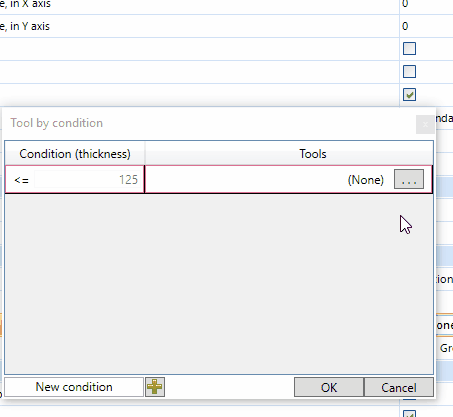 Add condition and tool
To register new conditions simply type in the New condition field in the lower left corner and press enter, or click the button next, and so a new condition will be added. It will be registered following order, from highest to lowest.
IMPORTANT: for a condition to be added it must be greater than zero, it must not be an existing condition and be less than the first condition, it is the maximum thickness allowed by the machine.
After registering a new condition, you can select different tools by the type of material thickness.
IMPORTANT: when no tool is selected, the condition line is displayed with the red outline, indicating that no tool is selected. If any condition is without tool selected it is not allowed to leave this window, only if you click cancel.
New condition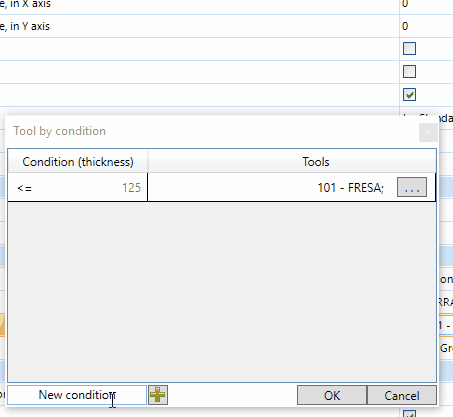 Edit Condition
To edit a condition, do the following:
1. Click on the cell and enter the new desired value.
2. After editing, conditions are rearranged.
IMPORTANT: The value must meet the same prerequisites that are required to register a new condition.
Remove condition
To remove a condition, place the mouse in the cell of the condition you want to remove, the icon displays an x, pressing this button will remove the condition.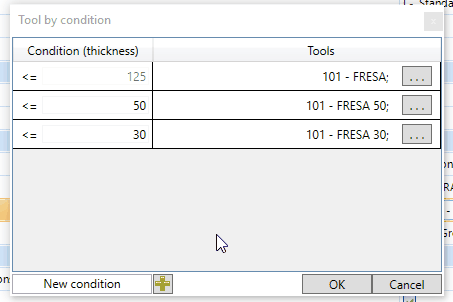 Generation of program
When generating a program with contour machining, the tool will be selected according to the thickness of the workpiece material.
Example: The conditions are: 125 (standard), 50, 30 and 15. And one piece with the material of thickness 18.5mm.
The tool will always be selected with the lowest condition that fits the thickness of the part, in this case, the 30, because the part is less than 125, 50, and 30, but 30 is the smallest of the cases.