In this article the following contents will be covered:
Free license renewal cancellation
Promob offers the free purchase of certain licenses for a pre-defined period of time. After this period, the customer has the possibility to purchase the license or not.
IMPORTANT: the free license will only be available on the first purchase of the product. In cases where the customer has used the product before or has had a license order for this product, even if canceled, the free license option is not available.
For this option to be available, the manufacturer needs to contact the Relationship Executive and request the service.
With the option of a free license for a period of time-released, the customer needs to access the Promob Portal Services and request the purchase authorization. If you do not have an account on the Portal, see how to create it here.
With the authorization sent, the manufacturer must authorize the customer to purchase the license. The customer will receive an email informing them that the purchase has been authorized, therefore, you will need to access the Portal again to finalize the license purchase.
Check out how to purchase below!
To purchase the license
1. Access the Promob Portal Services;
2. On the Promob Store menu, click See Use Intention;
3. Locate the desired product and click Buy Now!;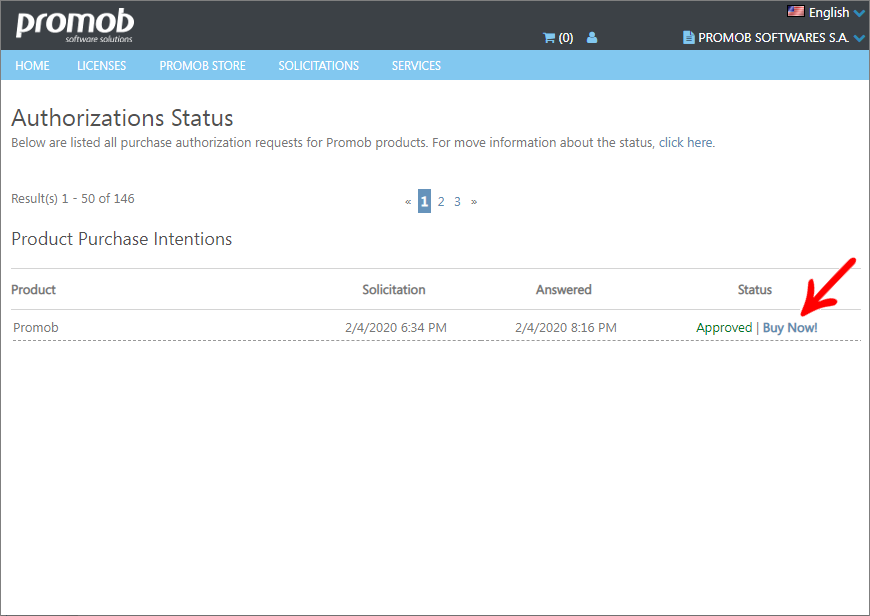 4. On the open screen, under Free Subscription, click Subscribe Now!;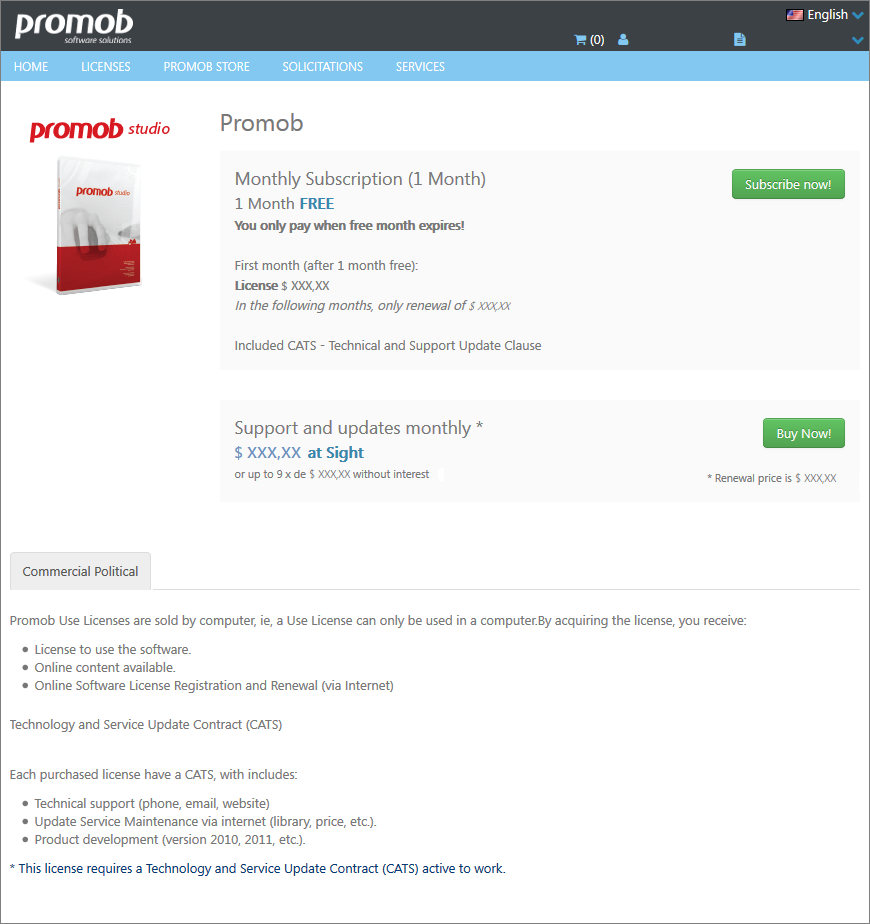 5. After, click Next;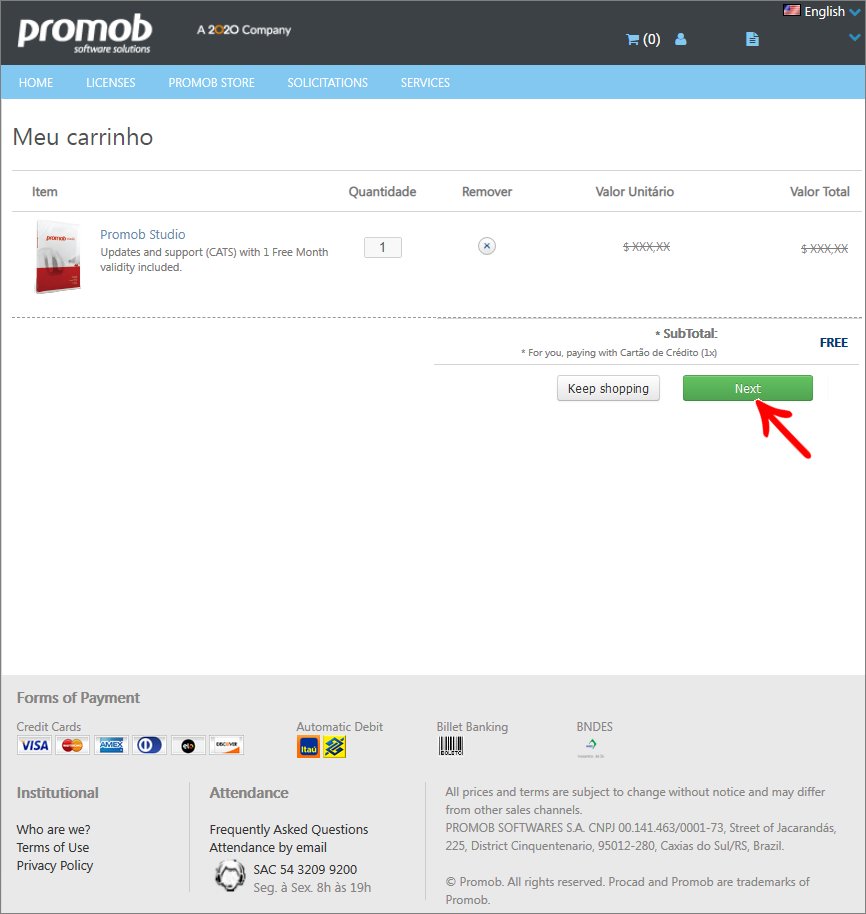 6. On the open screen, enter your credit card details and click Finish Order.
IMPORTANT: the renewal is carried out by credit card, so the license fee will be automatically deducted from the card after the free period. If the customer chooses not to purchase the product, it is possible to access the license management to cancel the license. Cancellation can be carried out until the first license renewal.
In cases where the retailer chooses not to purchase the license, the manufacturer must
deactivate
the customer in the Manager and change the Status from Approves to Refused on the Promob Portal Services in the
Manufacturer - Use Intentions
menu.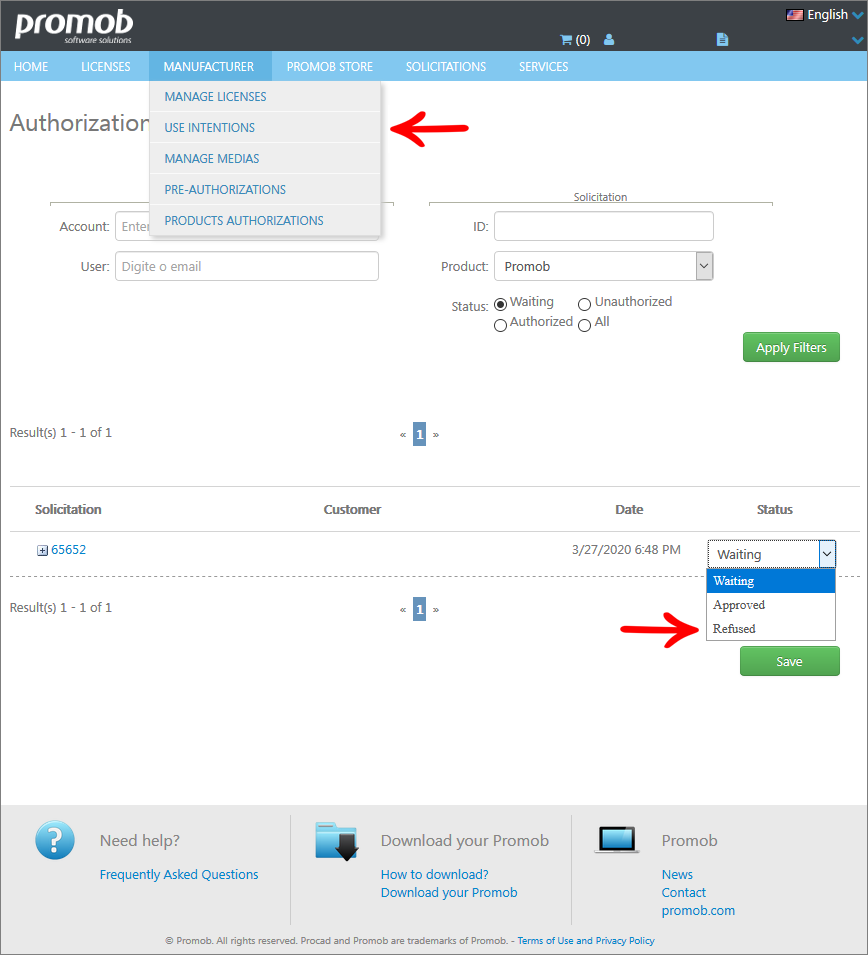 Trial License Cancellation
It is possible to cancel Trial licenses even before paying the first renewal order.
1. To cancel, click on the red X next to the license status;
2. Click on the doubts icon to help solve some questions. This icon shows more information about canceling the Trial license;
3. A message will be displayed if the cancellation is successful;
4. Another message will be displayed if the cancellation does not occur;
5. After canceling a trial license, when querying the serial number, the interrogation icon will inform the cancellation date, cancellation time and the user who canceled.