Available from versions:
Version Plugin Builder: 1.60.14.8 or superior;
Version of Plugin Door Report: 1.60.14.1 or superior;
Through Builder, you can generate a report to display all doors present in the environment. For having it displayed in the report, the doors must be registered with the DOOR_REPORT attribute. Check the information below:
Report Fields:
| | |
| --- | --- |
| Field | Value |
| Code | Code of the item (ID of Promob or code of database) |
| Description | Description of the door |
| Reference | Reference of the door |
| Measure | Measure of the door - Width x Depth x Height |
| Type (Product Type) | Value relating to the attribute TYPE_PRODUCT or TIPO_PRODUTO |
To display the Doors in the report:
1. Locate the door's register;
2. Add the DOOR_REPORT attribute with value True;
For more information on setting an attribute, click here.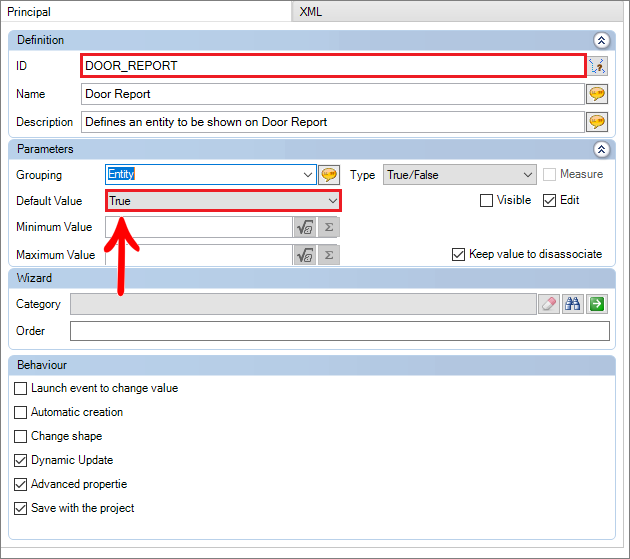 3. Add the attribute TYPE_PRODUCT or TIPO_ATRIBUTO (as registered in your library) with the desired value.
4. Through the Builder Plugin select the Generate Door Report option.
5. The report will be displayed: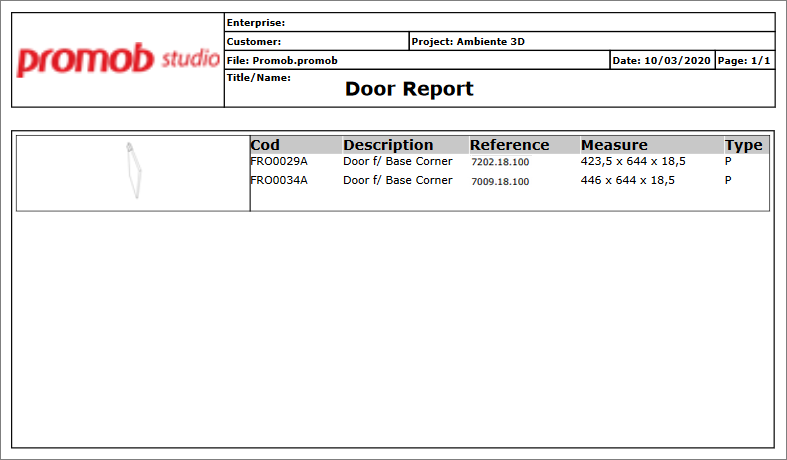 IMPORTANT:
The criteria for grouping Doors/Fronts is the entity ID in the Promob Catalog Registry, it means that two Doors with exactly same characteristics won't be grouped if they are not the same entity ID.
If the attribute TYPE_PRODUCT or TIPO_ATRIBUTO is not added to the door, the abbreviation WV will be written in the corresponding cell, that means Item without value | Value not informed in the Catalog content. A footer will be generated on the page with the caption referring to the abbreviation.