Available from version:
Plugin Builder Version: 1.11.19
Plugin Warehouse Report Version: 1.11.0
Edge band information in the Warehouse Report is available from version:
Plugin Builder: 1.60.14.2
Plugin Warehouse report: 1.60.14.2
1. Purpose: The report will display all warehouse items in the project;
2. Report Fields:

3. Search for information: will be searched in the project all purchased items, as well as the structures of these items (purchased).
IMPORTANT: To generate a purchased items report, you must identify the items you want to leave on the report. To identify an item as purchased, go to Register - Modules menu. In the entity, you want to identify as budgeted, select the Builder tab and click the Purchased Item button.
4. Attributes: How the attributes must be applied to items to be generated in reports;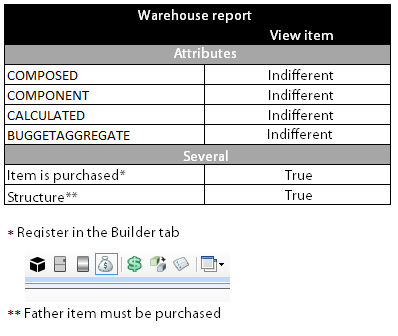 IMPORTANT: For structures to appear in reports, a process must be performed, click here for more information.