Connect from version 2.0.18
In the latest versions of Promob, saving projects no longer occurs locally on the machine, but in the cloud! As a result, the *.promob file is no longer automatically generated.
To open a project already saved on Promob is very simple:
1. With Promob open, on the project screen, locate the project you want to open. To locate the projects for a specific customer, simply enter the first letters of the customer's name, and the projects will be displayed.
2. Click the open project icon.
3. The project will be loaded and opened.
IMPORTANT:
- If the project has already been uploaded to the cloud, it will be possible to access it from any computer that has a license linked to the same account.
- If the project has not yet been uploaded to the cloud, it will only be possible to access the project on the computer where it was made. In addition, it is possible to export the project and save the file on the machine.
- Projects with online items (Decor and Catalog3D) will open gradually. Online items will open first with a green box and then the item will be displayed, doing that the items will load faster. Inserting these items will have the same functionality, the green box at the beginning and after the download is completed the drawing normally appears in the 3D project.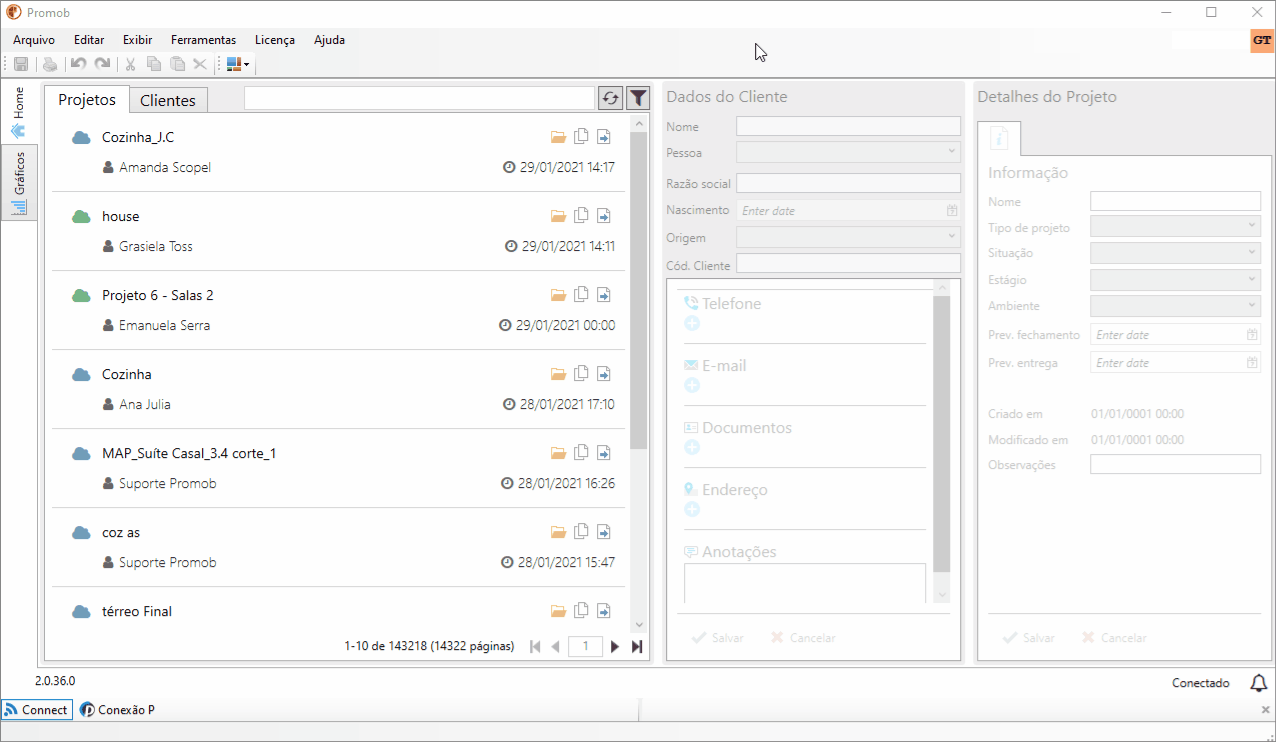 The projects tab also has the option of filters, where we can filter by: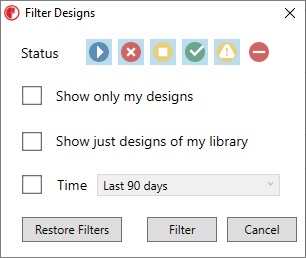 Status: here you can filter by project status, between ongoing, converted, disregarded, lost, or suspended projects.
Show only my projects: by checking this option, in the list of projects, only the projects made in this serial number will be displayed. By default, Promob comes with this option unchecked, so the list of projects lists all projects from all licenses that are linked in this account.
Show just designs of my library: by checking this option, it will display only projects created in the same Promob library to which it is open, that is, that was created from the same system.
EXAMPLE: by checking this option on a Promob Plus Professional, only projects that were created on a subscription to Promob Plus Professional, regardless of the Promob serial number, will be loaded.
NOTES: this option, by default, will be active when opening Promob. It is available starting with version 2.0.47 of the Connect tool.
Time: we can choose to filter designs made at 7, 15, 30, 60, 90, 120 or 365 days.